Sandy Skoglund @ Fotografiska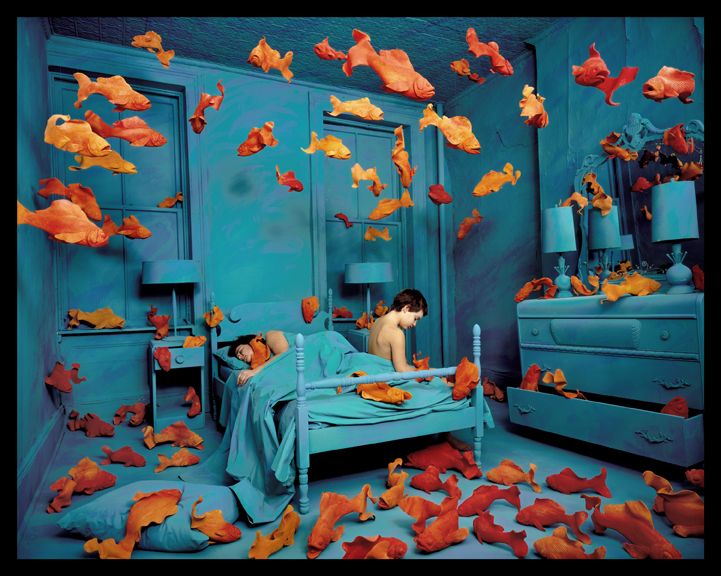 Image Credit: Revenge of the Goldfish © 1981 Sandy Skoglund courtesy Paciarte Gallery Brescia Italy
Sandy Skoglund
10 September – 6 November, 2010
A characteristic feature is that selected objects in Skoglund's images are highlighted
in strongly contrasting colours. A picture may take months to plan and build before
being shot with a large-format camera. Despite her surrealist style, most of the images
have not been retouched or digitally manipulated. References to mass-consumerism
and popular culture are abundant in Skoglund's photography. One of her most
famous works is "Radioactive Cats", with neon-green cats running amok in a grey,
rather depressing kitchen.
"My work is founded on a desire to reach out on several planes. I often employ a variety
of materials, techniques and ideas, and combine the artificial with the natural, to
provoke thoughts and questions. It's unbelievably exciting for me to show my work
to a Swedish audience, since I was born and raised in the USA but have Swedish
heritage and many relatives here," says Sandy Skoglund.
Pieter ten Hoopen – Stockholm
10 September – 28 November, 2010
The Swedish-Dutch photographer Pieter ten Hoopen (1974) is currently one of Sweden's
most highly-acclaimed photo-journalists. In March this year, he was awarded as
Press Photographer of the Yearfor the third time, and he has also won the World
Press Photo's Picture of the Year award.
Pieter ten Hoopen had already turned 25 when he embarked on his career as a
photographer. In only a few years, he had developed a unique feel for lighting and
demonstrated a remarkable ability to produce dreamy images of the simple and
often overlooked aspects of everyday life. Ten Hoopen's photos mix documentary,
socio-realistic observation, with an air of fictional myths and dreams.
"I try to relate as personally as possible to my subjects. I take part in a course of
events, and this then becomes part of me in my photography," says Pieter ten
Hoopen.
---
Posted in Stockholm | Tagged