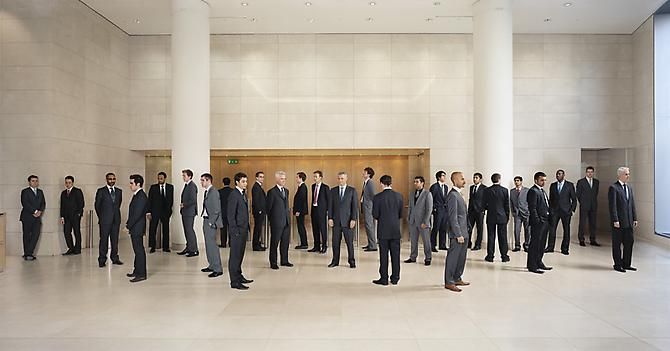 Exhibition: June 7 – July 7, 2012
The first solo show in New York City of photography by Mitra Tabrizian will be on view at Leila Heller Gallery in Chelsea at 568 West 25th Street from June 7 – July 7, 2012. The exhibition will feature seven monumental photographs taken in Iran and England. The artist had a solo show at Tate Britain in 2008, and has been commissioned to do a portrait for the London Olympics this year. A fully illustrated brochure with an essay by Vali Mahlouji, a London-based independent curator and writer, will accompany the exhibition.
Tabrizian creates fabricated mise-en-scenes. Bankers in an office building, women walking through Tehran's surrounding mountains, a man standing on the sidewalk—nothing seems out of the ordinary—yet Tabrizian stages these evocative scenes as if we are walking in on the subjects mid-scene, immediately before or after the climax of the narrative. Often the images appear cold or even disturbing in large part due to the utter disconnect between the characters. For instance, in City, London 2009, we see several men in black and grey business suits inside the lobby of an office building. Indeed nothing out of the ordinary; however, there is no interaction between the characters. They each stand and stare in different directions, completely disconnected from each other and the backdrop that surrounds them.