Book Review: Timeless Photography of Rowland Scherman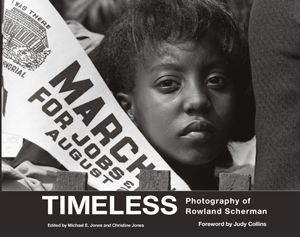 I very much warm to this work although I do think the title misleading for the photographs in this tome capture of course moments in time. In other words, while some of these photographs might undoubtlessly be of timeless quality what they record is how some of us would like to remember the 1960s and 70s. What we get to see, the publisher lets us know, are "71 duotone images and extended commentary from Rowland Scherman, a former Life magazine photographer, featuring celebrity portraits of musicians, athletes and politicians, such as Bob Dylan, Judy Collins, the Beatles, Arthur Ashe, LBJ and Jimmy Hoffa." Also included are previously unreleased images of Robert Kennedy.
Most photo books show pictures without captions, or with captions we could easily do without — such as "Mexico 1934", or "Dog" (when the photo shows a dog), for instance. While such an approach — "I do not want to influence you, trust your eyes, judge for yourself," the photographers seem to say — might be acceptable for, say, art photography or advertising, it is clearly not appropriate for documentary photography or for press photography.
The photographs in Timeless do not come with meaningful captions either, they do however come with "extended commentary" by the photographer, and it is this commentary that makes me appreciate this collection of black and white shots so much. Don't get me wrong, I felt very touched by many of the pics and most especially by the cover photo but what to me stands out is Rowland Scherman's commentary. Firstly, because such commentary is rarely found in photo books, and, secondly, because it it written so unpretentiously.
So what is this commentary all about? It is about the story behind the picture and describes what situation the photographer was in, what was required of him, how he felt about the assignment, how the photo came about etc. In short: it is the kind of information I have always been interested in and found difficult to come by.
Take for instance the shot of his younger brother Tom, it was on the first roll Rowland ever took, in the summer of 1957: "Tom had half-completed his first model of the Nautilus, and I had just bought my first real camera – a Nikon S2. What a good time to try out my (potential) portrait skills! I wanted a black background, so I moved the furniture away. I needed a little light so I moved a lamp a bit closer. Tom was a funny guy but I didn't want a smile …"
"The problem is not that people remember through photographs but that they remember only photographs," Susan Sontag penned in December 2009 for the New Yorker. In my case this does not hold for I experience photographs first and foremost as triggers – of emotions, of memories, of longings: The shots in this tome made me yearn for my youth regardless of the fact that I grew up in Switzerland (and not in the United States where these pics were taken) and that I'm a bit too young to have really been able to remember The Beatles' First U.S. Tour or to grasp the significance of The March on Washington. With the music of Crosby, Stills, Nash and Young or the promise that the youthful Robert Kennedy radiated I am however familiar.
Rowland Scherman's photos bring back a time that in hindsight seems innocent and hopeful, for many it was a time of awakening. Just look at the young Bob Dylan at the Newport Folk Festival. Or at Barbara Walters posing with a cup of coffee in one hand and a telephone in the other in a hotel bed. My personal favourite is the most endearing shot of the  young Charlotte Rampling (together with Sam Waterston and Robie Porter). I do love Rowland Scherman's photographs!
The fact that moments in time (that don't really exist for everything, as Heraclitus famously said, is in constant flux) are made visible by photographs (a contradiction, I know, but life is full of them) should actually make us appreciate time much more than we usually do … and this is precisely what the photographs in this formidable tome help us do.
Timeless
Photography of Rowland Scherman
Foreword by Judy Collins
Edited by Michael E. Jones and Christine Jones
ISBN:978-1-931807-23-4
Peter E. Randall Publisher
Portsmouth, New Hampshire 2014
www.perpublisher.com
Available March 1, 2014
---
Posted in Photographer | Tagged Book Review