Book Review: Adam Geary's We Burn

Adam Geary's We Burn is introduced with these words: "The seemingly and insignificant details of ordinary life are brought into sharp focus … a set of images that helps us to redirect our thoughts and refocus on the way we live our lives." This is quite something, I thought to myself, especially when you consider that Adam Geary's images are characterised as "forever doomed to be about both everything and nothing."
When leafing through the pages of We Burn I wasn't always sure whether I was looking at photographs or at paintings or at drawings. Take the glasses here for example: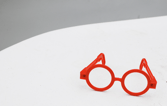 I'm not sure what to make of this. Is this an image "that helps us to redirect our thoughts and refocus on the way we live our lives?" It might of course be that way but I'm afraid I do not see how.
On the other hand, I know this to be a photograph because it can be found in a photobook. And, it does direct my view. Also, I kinda like what my eyes are showing me. At the same time I feel a bit at a loss what to think of it and all the other pics in this small booklet: a hanging lightbulb against a grey wall, a red plastic bucket … these are the ones that are easily identifiable, in other cases I'm left guessing. But as I've said: I'm sometimes not even sure that I'm looking at photographs.
Henry James proposed that we should ask of art: "What is the artist trying to do? Does he do it? Was it worth doing?" Applying these questions to We Burn, my answer is three times the same: I do not know.
AGLU says of itself that it produces "collectable little marvels that introduce well produced, intriguing portfolios at affordable prices."  For more, go to www.aglu.co.uk
We Burn by Adam Geary : http://aglu.co.uk/index.php/books/adam-geary2013-06-04-21-15-24/we-burn-detail
Hans Durrer is an author and addiction counsellor based in Switzerland: http://www.hansdurrer.com/ ; http://12-step-addiction-treatment.blogspot.ch/
.
---
Posted in Photographer | Tagged Book Review