Book Review: Carl Corey's "For Love and Money"
"I like keeping things simple," writes For Love and Money – photographer Carl Corey. "Simple pictures, simple story, simple life.  Simplicity provides clarity of vision."  I very much warm to this view.  It also brings to mind a quote from the former British diplomat Carne Ross that I'm holding dear: "Simplicity is the only thing that works in a complex world".
Since I'm fond of the simplicity-attitude, I approach this book with a desire to like it – and I do like it! I'm emphasising this because we usully see in pictures what we bring to them.  And, I feel like making it clear that I bring sympathy to this photographer's attitude.
What we get to see are portraits of Wisconsin family-owned businesses in existence a minimum of fifty years. "Here they are, ready to serve you and proud to do so," Carl Corey characterises the ones portrayed in this tome. With this in mind I did indeed see just that, and enjoyed how convincingly it came across.
Clearly, these pictures were taken with a sympathetic eye. As always, when portraying people, a certain collaboration takes place between photographer and subject. And so I couldn't refrain from asking myself whether the ones portrayed had a say in where and how they were framed or whether the photographer was the sole decision maker but, sadly, I did not find any pertinent information.
Again and again these pics put a smile on my face. When reading, for instance, that Glynis Smith calls Speed Queen BBQ "the closest thing to barbecue heaven this far north," or when looking at the two shots that illustrate the religious goods company of the Stemper brothers and are accompanied by a brief comment (like all the other pics in this work) that states: "They're serious about their business, but they have a great camaraderie and sense of humor."  To portray their business the way Carl Corey did also shows that he too has a sense of humor.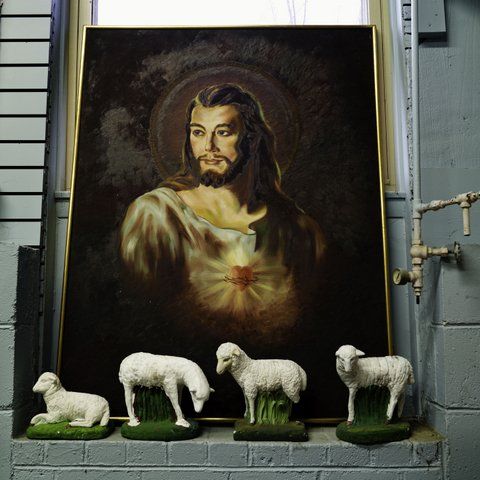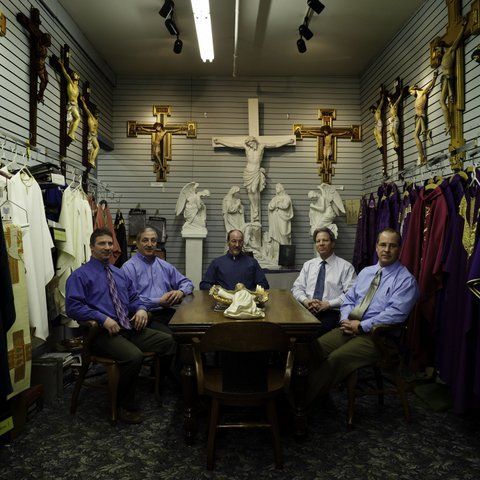 In the introduction, Graeme Reid of the Museum of Wisconsin Art writes that while these "are Wisconsin pictures, they are equally American pictures."  I especially liked his reflection that "these pictures may be seen in two ways: as quaint last vestiges of twentieth-century American commerce, or as a pictorial pause in ongoing familial legacies."
In his illuminating foreword, Michael Perry points to the shoeseller's portrait on page 61 where you see Theresa Mezera surrounded by lots of boxes and some shoes on display: "Take a moment to count the boxes. Understand that the boxes depart the store only one pair of feet at the time…" for more of this wonderful commentary and lots of inspiring pictures, please go to the next bookstore …


For Love and Money: Portrait of Wisconsin Family Businesses
by Carl Corey
Foreword by Michael Perry
Wisconsin Historical Society Press 2014
To purchase the book: www.wisconsinhistory.org/
---
Location: Online Type: Book Review
Events by Location
Post Categories
Tweets
Tags