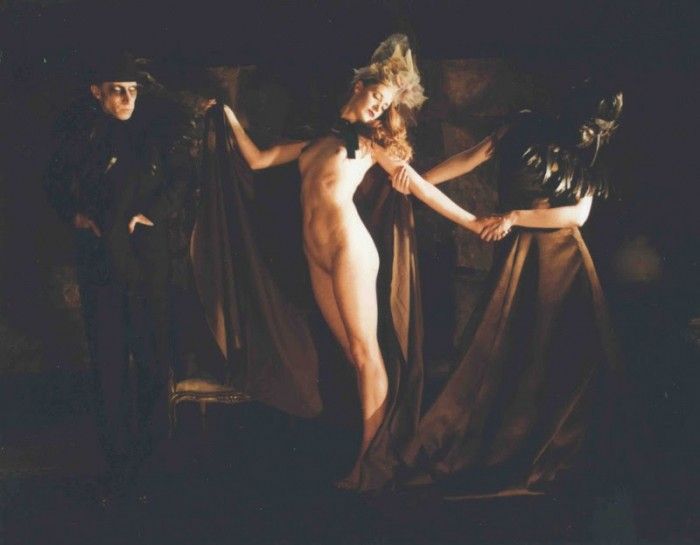 Marco Sanges: The Indecent Eye
&
Alexey Lyubimkin: City/ Lights
26th May- 21st June 2014
Marco Sanges cordially invites you to enter into his extraordinary worlds. This fantastic storyteller creates his photographic narratives as cinematic sequences, and as we peer through his silvered lens, the distortion suggests that all is meaningless, nothing has purpose. Within such surreal walls, logical arguments fall into nonsense; eloquent speech collapses into gobbledegook and the inevitable outcome is silence. As a result, the subjects are trapped in cruelly endless mimes, menaced relentlessly by incomprehensible outside forces. Borrowing stylistically from the silent movies of the 1920s and 30s, Sanges' players gesture helplessly from the other side of their screens. Aghast, afraid, astonished, their expressions are enormously exaggerated. 
Lyubimkin's city visions borrow from the old technique of tinting images but use a modern myriad of solero hues. His metallic rain falls in pins and needles over smoothly inked barcodes, and finally slips off the page. Printer margins drag their heels in orange and pink whilst clouds change like the Northern Lights or a heat sensitive T-shirt. This artist's preoccupation with colour emphasises the importance of noticing beauty even to the rat race during rush hour. If we were to look up from the pavement for just one moment, we might spot a streetlamp glancing off the gutter at a perfect angle, or see how branches transform the sky into a stained glass window.
Hay Hill Gallery, 35 Baker Street, London W1U 8EN