Danny Lyon is a rebel with a cause. He has spent his career documenting American counter-culture. Every body of work a political statement, the goals of which were to create conversations about social change. His photographs individually are as strong as they are as a whole, THE SEVENTH DOG breaks down a number of his books to their barest forms. He honestly expresses his feelings and intent behind his most well known bodies of work. The books, like visual literature, are Lyon's true form.
THE SEVENTH DOG is a diary, of sorts. It is organized in reverse chronological order, the cover is an upside down Kodak box,  with a Kelton Labs mailing label (Chuck Kelton has been Lyons printer for decades).  This collaboration is honored by incorporating the Kelton mailing label w a self portrait. The design and packaging of the book allows us to feel like we are opening one of Lyon's personal "boxes", containing prints, ephemera and memories. It's an intimate, visceral and aesthetic experience. The book begins with Occupy Wall Street in 2012, and ends with what is likely one of his first photographs made in 1960, an abstract that, brings Minor White to mind.
In 1962, at the age of 20, Lyon became a member the Student Nonviolent Coordinating Committee (SNCC) in Alabama so as to work against segregation. This began the development of his signature style, his photographs, formal but always intimate. As a witness and a participant Lyon delivered what we now know as some of the most important images documenting the virulent racism and  the Movement.
Whatever one's background, race or social status, to go down south in 1962 to support and document the civil rights movement, was to risk arrest, extreme violence or even death. Lyon's left Chicago, while he was in the middle of working on BIKERIDERS: one of the great photo books, and the work that began Lyon's career, not only as a photographer but as an author. Admirable, to say the least, because he went down south not for his personal creative purposes, but to honor a political and social commitment, and to work for the Movement. I'm not sure his desire was to make political statements with his work, rather it was to document, for history what was happening right in front of him. In addition, his images helped to visually define the Movement. In the chapter entitled 'SNCC Student Non-violent Coordinating Committee 1964-62'  we see SNCC posters using Lyon's images, and he mentions in the text that some of his photographs are part of a permanent exhibit on the civil rights movement at the Library of Congress. He says this is one of his proudest accomplishments.
The most revealing part of the book is learning about Lyon's relationships to his subjects. He enjoyed a rare status…one of witness and participant. Lyon was an artist of a certain age. Coming of age during the turmoil of the 60's informed his choices in subject matter, as much as it did his politics. The text in THE SEVENTH DOG is highly personal, and tinged with sadness.  Lyon lost quite a few friends and colleagues. He writes about Danny Seymour, friend, colleague and legend among a certain generation of artists and filmmakers(Seymour was Robert Frank's assistant on COCKSUCKER BLUES). Danny Seymour made a photo book, A Loud Song (Lunstrom Press, 1971) which is spoken about on mythic levels and perhaps Lyon gives Seymour a new life here, as he introduces his work to a new generation. You can see how Seymour influenced Lyon and Robert Frank and visa versa. A Loud Song, is Seymour's first and only photography book. Danny Seymour disappeared in The Caribbean in 1973.
Other chapters of the book look at BIKERIDERS, CONVERSATIONS WITH THE DEAD and THE DESTRUCTION OF LOWER MANHATTAN. Also strewn throughout the book are Danny Lyon's collage works. Most of this work is personal. They are travelogues, family albums and some appear like sketches for larger bodies of work.
Introducing his most recent photographs, in the first chapter entitled "New York, 2012", Lyon says:  "Many years ago I was being driven along Central Park West in a New York taxi with Robert Frank. When I spoke of using texts with words with photography, as part of what were then called 'photography books,' Robert said, 'Well, then that's the end of it.' The year was 1969, and it was not 'the end of it.' As a young photographer deep into a career of making picture books with texts, I couldn't help but feel that Frank's comment smacked of kicking out the ladder." Spoken like a true iconoclast.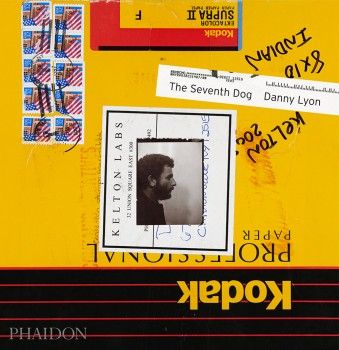 The Seventh Dog
by Danny Lyon
Phaidon
To purchase the book: http://www.phaidon.com/store/photography/the-seventh-dog-9780714848532/