Interview with photographer David Bert Joris Dhert
Cary Benbow (CB): Why did you become a photographer? How did you start in photography?
David Bert Joris Dhert (DD): It must be my curiosity by nature that got me first into documentary film and later into photography.
I have always been taking pictures, but I feel I really started making photographs only recently. The making of my documentary, We Must Be Dreaming, for which I have been exploring Rio de Janeiro and its many faces parallel to the coming and going of the World Cup and Olympic Games, has made me think more profoundly about the language of photography compared to film and I picked up a creative urge to also photograph.
CB: Can you please explain the idea behind your portfolio images submitted to this issue centered on the theme of Enthusiasm?
DD: I have been going to the gatherings of the black candomblé and umbanda communities in the suburbs of Rio de Janeiro for years now to hear the music and witness the ceremonies. This resulted in the developing series 'When The Gods Come Down'. The series is about transmitting life. For the people in the photographs, these gatherings are vitalizing and introspective moments. So I only photograph when I feel the time is right. Some projects simply require your patience before being photographed.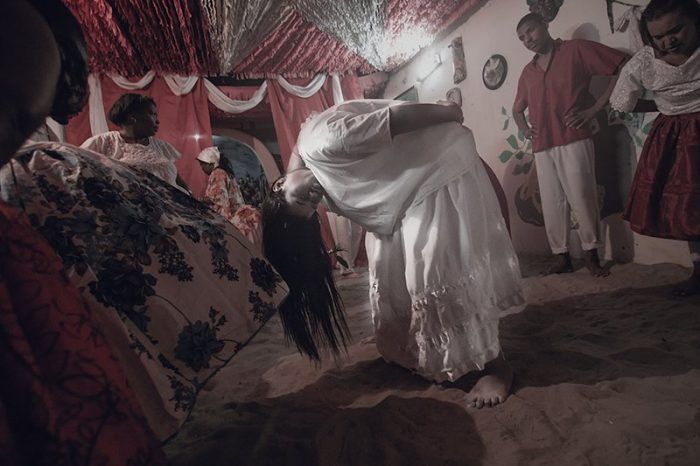 The gatherings are intense experiences. Ceremonies of nine hours are not an exception, they go until deep in the night: singing, dancing, loud batuque (percussion), sweat, sand, blood and tears. At certain times, someone goes into a trance and then his or her soul is being taken over by the Gods and the Orixás. The spirits of the divine world then pass messages onto the others witnessing the trance. These messages commonly are formulated as a specific piece of advice for a decision the person who hears it is coping with. Observing these rituals made me think far beyond religion. It made me think about our proper nature. Why we develop formulas, why we write newspapers, why we make photographs. We all are storytellers and we all need stories. As lights in the dark.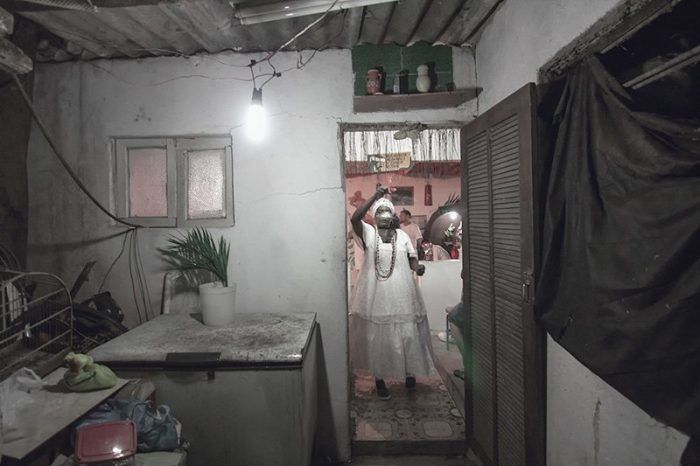 CB: Where do you get the ideas for your personal photography?
DD: I have been commuting between the two hemispheres over the last six years, living two lives at the same time, one in Brazil, one in Belgium, Europe. Half a year on the Northern hemisphere, half a year Southern hemisphere and so on. I would not recommend this for your personal life, but objectively this makes you watch your life from a distance very easily and it helps you consider your context and formulate specific ideas. The same way as reading books and watching theatre plays also set your mind to travel along the perception of the author. It's all about changing points of view.
CB: Who are your personal photography inspirations?
DD: There's so many – but if I pick two in my state of mind today, I would say Magnum photographers Raymond Depardon and Josef Koudelka. I like the journey you make when you watch their work over the years.
CB: In your opinion, what makes a good photograph?
DD: Sometimes the best answer is in a question. I like photographs that make my mind work, give new air and new ideas. But the answer to what makes a good photograph comes from beyond reason. It's a gut feeling, no theories or rules behind it. Photography being a language, and I like dialects.
Like the shell you take home from the beach, a film or a photograph recollects experiences. They are tracks of experiences in the search for ideas, stories, life and identity.
---
David Bert Joris Dhert is a documentary filmmaker and photographer based in Brazil and Belgium. For more information, and to see more of his work – visit www.daviddhert.com, and for his documentary film project, We Must Be Dreaming, visit www.facebook.com/wemustbedreaming
---
Location: Online Type: David Bert Joris Dhert, Documentary, Interview
One response to "Interview with photographer David Bert Joris Dhert"