Book Review: New Ways of Seeing: The Democratic Language of Photography by Grant Scott
The strength of New Ways of Seeing is in the discussion of where we are today. The discourse and investigation of photography and learning the craft of fluently speaking a visual language is at the forefront. The book feels perfectly positioned to appeal to both students and educators of visual arts, or anyone wanting to better understand the importance of applying practiced skills and knowledge to the visual language of photography.
The 'democratic language of photography' couldn't be more appropriate as a guide or theme throughout Grant Scott's new book New Ways of Seeing. In a very agreeable tone set in the text, Scott presents his opinion about how we got to the current position of the billions of people worldwide who carry a camera each day. However, he makes the point that this fact does not necessarily make us all well versed in a photographic, or visual language.
Scott easily recognizes the importance of pre-smartphone photography and visual storytelling, while also giving credit to the importance of the ease and ability of photographers to create without the burden of expense, or perhaps ironically, without the burden of a traditional photography education. Thus giving rise to photographers being able to proliferate personal projects and elevate the democratization of photography.
The book is laid out in chapters, but as Scott mentions in his introduction, it is not necessary to read them in order. His chapters cover a broad spectrum of topics and they are presented with the sentiment of embracing change. Scott liberally references photographers of prominence and notes the significance of their work – historically and contextually. He gives them ample credit for the influence they have made for contemporary photographers, even if it is without their awareness. The importance of internet sites like Instagram are given credit, due to the role they have played in the process of forming and informing the lives of people studying photography. Scott says in the chapter Speaking in a Digital Environment, "For a photographer to ignore the impact of Instagram on lens-based image creation could be an act of informed decision making. For a teacher involved in photographic education to ignore Instagram's impact on the next generation of photographers would be an act of denial and negligence".
I enjoyed reading through the range of topics, and embraced Scott's attitude toward a general inclusion of all the advances in smartphone, digital, and computational photography, rather than adopting a stance of being firmly grounded in traditional analog photography and scoffing the present state. The role of narrative and telling a meaningful story through the visual language of images is a primary theme throughout. Scott mentions that many people currently studying photography more readily identify themselves as visual storytellers, rather than as photographers. Very little attention is paid to gear or kit as it applies to how to make meaningful work, but the technological advances of photographic equipment are chronicled for the purpose of better understanding how we've gotten to this point. This is one of the most meaningful books about photography that I've read. It is highly informed, but not over my head, and ultimately invites the reader to thoughtfully inspect and challenge their own practices of being an image creator.
---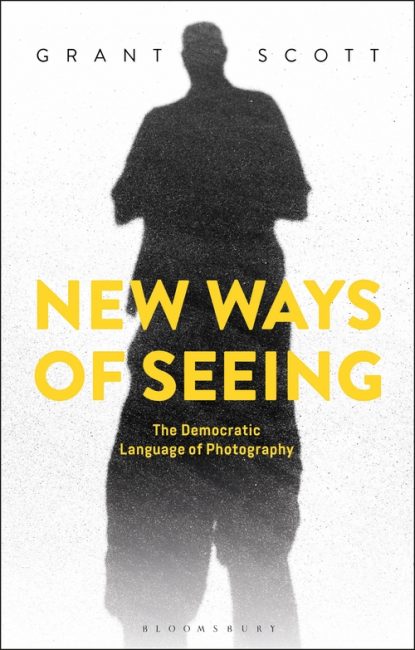 New Ways of Seeing: The Democratic Language of Photography
by Grant Scott
240 pages, 5.6 x 0.6 x 8.4 inches, 60 color photos
Published by Bloomsbury Visual Arts, 2019
ISBN-10: 135004931X
ISBN-13: 978-1350049314
---
Grant Scott is the founder of United Nations of Photography, a Senior Lecturer in Photography at Oxford Brookes University, UK, a working photographer, and the author of several previously published books. He can be found on Twitter at @UNofPhoto
His documentary film, Do Not Bend: The Photographic Life of Bill Jay has been screened across the UK, Canada, and the United States, and was ultimately posted for free via YouTube in the spirit of sharing knowledge.
To buy a copy of New Ways of Seeing, it can be found on Amazon here, or at the publisher site here. Check out the website for  United Nations of Photography  and to find out more about Grant Scott or see his work, please see his website: https://www.grantscott.com/
---
Also published on Medium.
---
Location: Online Type: Book Review
One response to "Book Review: New Ways of Seeing: The Democratic Language of Photography by Grant Scott"
Events by Location
Post Categories
Tweets
Tags