Now home to Canary Wharf and global finance, the Isle of Dogs was once the beating heart of industrial East London. These photographs, taken between 1982 and 1987, show the island just before the big money moved in and the area was forever transformed. Photographer Mike Seaborne documented the area, capturing the people who lived and worked in this area that was on the cusp of huge transformation.
Seaborne stumbled on the area by chance while he was photographing the river wharves closer to central London. He was struck by the charm of the area; the retained character of the traditional industry, homes and businesses in the area. From 1983-1986 Seaborne undertook an extensive photographic project to document the area prior to its redevelopment. He photographed streets and buildings, and also inside factories, schools, community centers and other social spaces. His purpose was to make a record of the Island before 'big money' moved in and transformed both the landscape and the people who lived and worked there. This project was undertaken in conjunction with the Island History Trust, an organization which helped collect and preserve the history of the Isle of Dogs.
This documentary project does a great job of capturing the essence of a place and its people. The Isle of Dogs provides a melancholy glimpse into a world that no longer exists. The shops with small bins of sorted vegetables, or understated displays of baked goods or tins were disappearing. The grocer, chemist, and butcher shops had been razed and replaced with supermarkets by the end of the decade. Electric typewriters, computers and modern reception areas are shown in Seaborne's images of a new sugar refinery plant, and the Asda superstore – a stark contrast against scenes of toiling factory workers at Blythe Burrell Colours Ltd. Handwritten signage appears throughout the images in the book, chronicling the dissatisfaction of the impending crush of big business and 'progress' coming to the area. A sign declaring a 'sold' property has been edited to include 'up the river' as a social commentary to the plight the community experienced.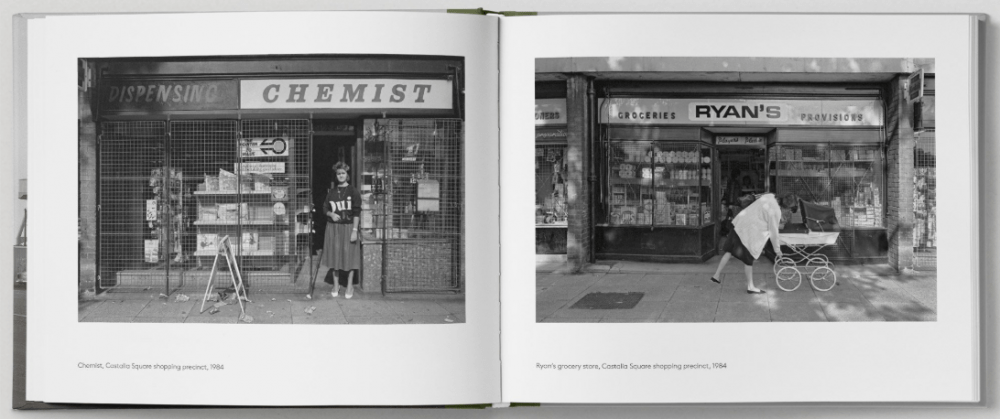 It is somewhat sad to see the scenario played out; the paradox of the required death of an established community to usher in improvement. Change is inevitable, but as one member of the Island History Trust says in the book's introduction, "the end was undignified". Seaborne's photos however, give dignity and honor to the people he photographed. The social fabric of the area will not be lost due to his creative endeavors, and the Isle of Dogs will live on.
'The Isle of Dogs: Before the Big Money' by Mike Seaborne
With an introduction by eminent author Ken Worpole
192pp, cloth spine, 156mm x 196mm
---

Available for purchase from Hoxton Mini Press, publisher of the 'Vintage Britain' series of beautiful, collectible books celebrating the recent history of these isles through rather nice photography.
https://www.hoxtonminipress.com/
---
Since 1979 Mike Seaborne has been photographing London with a specific interest in its changing urban landscapes. Until 2012 he was Curator of Photographs at the Museum of London. His work has been shown internationally and appears in major collections including at the Tate and Historic England. You can find out more about him and his photography at http://www.80sislandphotos.org.uk/mike-seaborne.html
Images shown are courtesy Hoxton Mini Press, © Mike Seaborne
---
Posted in Photographer | Tagged Book Review | Leave a comment