Book Review: Gardening at Night by Cig Harvey
Cig Harvey has created a fairy tale of magical realism in her 2nd book, Gardening at Night. In Harvey's own words, it is "a love story" of becoming a mother and she offers the viewer a feast of color and fantasy in her pictures. A long-time teacher as well as photographer, Harvey weaves a visual poem about her life and environment through breathtaking photos firmly rooted in childhood and femininity and bursting with color. As in her first publication, You Look at Me Like an Emergency, the images are accompanied by prose, sometimes hand written across the page like a diary.
There is an intimacy to the book and it feels as if Harvey has let us into her own secret garden, which changes with the seasons and contains all sorts of wonderous creatures. Her subjects are photographed inside and out with fireflies, balloons, top hats, pomegranate seeds, frogs, feathers and masks– like a mad hatter's tea party with a modern twist. The narrative tells a timeless story of a pregnant woman, who, while trepidatious, embraces her new role and life. Harvey's story is deeply personal and her words carefully chosen. The title is a reference to an exuberant 1980's REM pop song and her daughter's name, Scout, references both a fearless adventurer and one of literature's most brave little girls. Gardening at Night reads like a journal, but it is Harvey's images – tactile, simple and always colorful, which embrace the natural world and those around her, and through which Harvey shows us a joyous Peter Pan version of life.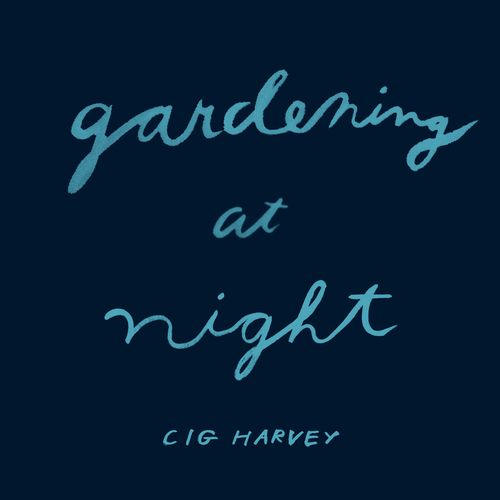 Gardening at Night
By Cig Harvey
Schilt Publishing
For more information and to purchase the book: http://cigharvey.bigcartel.com/product/gardening-at-night-trade-edition
---
Location: Online Type: Book Review
Events by Location
Post Categories
Tweets
Tags