Book Review: The Barbican: Architecture and Light by Alan Ainsworth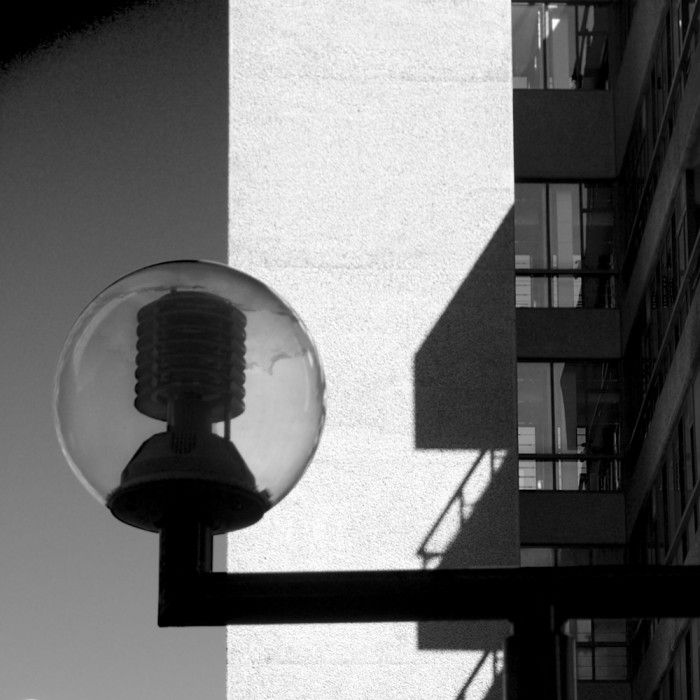 What drew me to this book was its subtitle, "architecture and light" for "The Barbican" did not mean anything to me. And so I turned to Wikipedia that informed me that "The Barbican" is the largest performing arts centre in the City of London. "The Centre hosts classical and contemporary music concerts, theatre performances, film screenings and art exhibitions. It also houses a library, three restaurants, and a conservatory." It is also a residential building.
In the preface, architect Piers Gough states: "The Barbican displays a sheer physical joy in its combination of long horizontal buildings with tall vertical ones. I still think these are the most handsome residential buildings in London. The horizontal ones are the quintessence of horizontality and repetition and the verticality of the towers is equally emphatic." His enthusiasm is infectious, as is the skillful display of lines in Alain Ainsworth's photographs.
It goes without saying that a photographer interested in architecture and light will wonder whether considerations about light figured prominently in the architects' planning. Chris Rogers, who writes on architecture and visual culture, and Jane Northcote, a Barbican resident, management consultant, photographer and writer, are pointing out that the architects thought indeed a great deal about it.
What is of interest here is however not the architects' planning but Alan Ainsworth's mostly black and white photographs. Well, black and white doesn't really describe accurately what – "colour-wise" – we get to see: various shades of white, grey, dark, pitch-dark on smooth as well as on rather rough surfaces.
To photograph means, literally, to paint or to draw with light. I must admit that I've never really understood what that means for I've always thought that one paints with a brush or that one draws with a pencil – but with light?
However, contemplating Alan Ainsworth's photographs sort of modified my point of view. His photographs, apart from being thoughtfully composed, make you aware that it is the light that makes us see what we are seeing.
The photographs in this work do not really show "The Barbican", they show selected parts of the buildings. In other words, the sensations that I experienced while spending time with these photos were not chiefly related to the construction as a whole but to certain, carefully chosen, aspects that showed me how fascinating, intriguing, even mysterious, parts of buildings can look.
Alan Ainsworth is not only an accomplished picture-taker but also a gifted man of words. It does not happen often that I come across a photographer who knows so eloquently to put into words what he sees. "The multiplicity of lines and shapes, both positive and negative, which catch and channel light in different ways in the Barbican is remarkable. Straight lines run horizontally, diagonally up staircases and vertically, counterposed in many cases by the jagged line of the edges of the towers. As these multiple shapes combine with the different shadow shapes which move slowly across the built landscape, a series of geometrical patterns emerge. Shadows form of different planes and the effect of this gradually-changing cubist collage can be mesmerising. The round globe lighting fixtures counteract the lines of the buildings and, when caught in the sunlight against shadow, seem like glowing bulbs. Plate glass windows create reflections of light and shapes and multiple the criss-cross patterns from the buildings."
Alan Ainsworth's photographs are a most convincing demonstration of how light not only influences but transforms our perception. Rarely has it been made so visible to me that "framing by making use of light" (and that, to me, is what make these photos special) is nothing short of art.
"The Barbican" is a truly extraordinary book, I do highly recommend it.

The Barbican: Architecture and Light
by Alan Ainsworth
Oblique Publishing, London 2015
For more information and to purchase the book: http://www.obliquepublishing.com/ordering.html
---
Location: Online Type: Book Review
Events by Location
Post Categories
Tweets
Tags