Book Review: One Year on Kythera by Kristina Williamson
I have always been fascinated by Greek culture. Growing up in Queens there is a very vibrant Greek community with events in pretty much every neighborhood where everyone is free to join in and sample the food and ethnic experience. When I got a chance to check out Kristina Williamson's book: One Year On Kythera I immediately jumped at the chance to review it because what better way to learn about such a fascinating people than to completely immerse yourself in their world.
That is precisely what Kristina did. Kythera is a small island in Greece that boasts a population of less than three thousand. You can definitely consider it rural and very down to earth. If you imagine villages, farms, fisherman, and humble folks living a simple life then you would not be disappointed by the images in this book. Kristina captures a refreshing way of life that unfortunately does not exist in big western cities. You can smell the fresh air and food leap off the page. Much of the landscape captured within this book has been unchanged by man, which is such a great positive when you think about how impossibly industrial most of the world has become.
That spirit of industry led to a mass exodus from the island of Kythera, which left it as sparsely populated as it is now. However, when you look at the photos that contain relics of a life gone by you can't help but appreciate the fact that the island may not succumb to the ills of the modern world and instead thrive on the people who remained as well as the community that lives that elusive simple life. Within the pages of this gorgeously presented book you will find answers to questions you may not even have known you had. Truly, what is life like in Greece? We hear things. We either immediately assume the whole land is covered in economic turmoil or that it's very much like the island of Mypos (that's for you Perfect Stranger fans) The truth is that through the photos in this book we get a glimpse of a life that has sustained this populace for centuries. Yes, there are modern conveniences but there is also the experience of living off of your land and upholding sacred traditions through religious ceremony or cultural rites of passage.
I love the feel, format, and texture of this book. It's a perfect coffee table book and conversation piece. The photos are presented in a clear way with no distractions. Kristina does a great job documenting life on this island through her eyes, which she admits took some getting used to. I'm glad she dived in full force when many other folks would quit just faced with the truth that you're a stranger in a strange land. I highly recommend this book to anyone who is a fan of culture and photography. It's a great combination of craft and adapting to a new situation while trying to find the craft in your present surrounding. This is a great slice of life book that you should add to your library.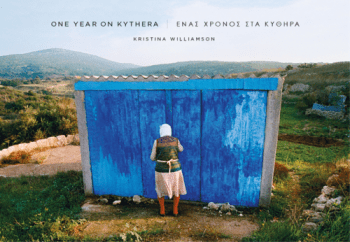 One Year on Kythera
by Kristina Williamson
For more information and to purchase the book: www.oneyearonkythera.com
---
Location: Online Type: Book Review
One response to "Book Review: One Year on Kythera by Kristina Williamson"
Events by Location
Post Categories
Tweets
Tags