Book Review: A Crack in the World: Five Acres in Mariposa by Barbara Kyne
Reading the title of this tome, I felt immediately reminded of Leonard Cohen's lines
"There is a crack, a crack in everything.
That's how the light gets in."
The focus of the photographs in this book is indeed the light. But isn't this always the case when it comes to photography? For to photograph means, literally, to paint or to draw with light.
I must admit that I've never really understood what that means for I've always thought that one paints with a brush or that one draws with a pencil – but with light?
Needless to say, light is crucially important when one is photographing. So what is the photographer doing with light? Using it, and getting used by it, I'd say. And that, to my mind, is different from painting.
Barbara Kyne's photographs were taken between March 2013 and April 2016 not far from the small town of Mariposa in the foothills of the Sierra Nevada mountain range in California. "This body of work … imagines what the consciousness of plants might be. What do they know? How do they feel? How do they interact with other species?" are the questions on Barbara Kyne's mind. And while I find these questions fascinating to explore and also understand that quite some thinking went into this project, I do wonder how a camera could shed light on such riddles.
"The subjects of many of Kyne's photographs – trees, grass, scrubs, plants – are alive," writes Susan Griffin and goes on: "Many of us have also come to understand that soil is alive too, Yes, yes. But still, I sense there is something more. Evident and elusive. Something internal occurring in the trees, the plants, the stars in the night sky, that seduces me, draws me in toward these images and at the same time inward toward a lesser-known territory in myself."
"Evident and elusive"? I like this combination a lot. I do however fail to see it in these photographs. Moreover, I'm completely at a loss as to how a photograph could show something that is elusive. Last but not least, "something internal" almost sounds like a definition of some thing that cannot be photographed.
What Susan Griffin ascribes to these photographs is what they seem to trigger in her. She describes her feelings, her sensations, her reaction yet this doesn't tell me much about the photographs – it tells me something about her.
In fact, I'm not really sure what can be said about these photographs that impressively demonstrate how varied different plants appear in changing light. Kyne says: "The sentience of all living entities and our shared consciousness jumps out at me as I peer through what seems like a crack in the world that allows me to begin to perceive some of its secrets." Although I can identify with that I remain doubtful whether photographs are suitable for illustrating "secrets".
Jasmine Moorhead addresses the question of what photography can and cannot do in her essay "A Photographic Grace". Although ideas of what the boundaries of photography should be differ considerably, "they all prioritize human control over the visual world," she argues and states: "Photography was used to sanction a wedge between the (human-) seen and the (human-) unseen, enforcing a sense of dominion over the rest of the Earth, even subconsciously. Barbara Kyne's works are healing the rifts of that long, forced separation in the most profound ways."
Well, I'm not too sure about that. But see for yourself. And, be aware that you are not just seeing with your eyes but also with your brain which is responsible for making all sorts of connections (and not necessarily the same as Jasmine Moorhead's). What my brain created was highly influenced, I imagine, by Barbara Kyne's conviction that everyting is connected and that "empathy for each other and for the planet that sustains us" – it was a rewarding experience.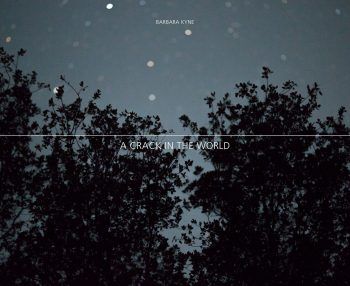 A Crack in the World: Five Acres in Mariposa
Photographs by Barbara Kyne
With Essays by Barbara Kyne, Susan Griffin and Jasmine Moorhead
Daylight Books, October 2016
www.daylightbooks.org, info@daylightbooks.org
---
Also published on Medium.
---
Location: Online Type: Book Review