BOOK REVIEW: The Potemkin Village by Gregor Sailer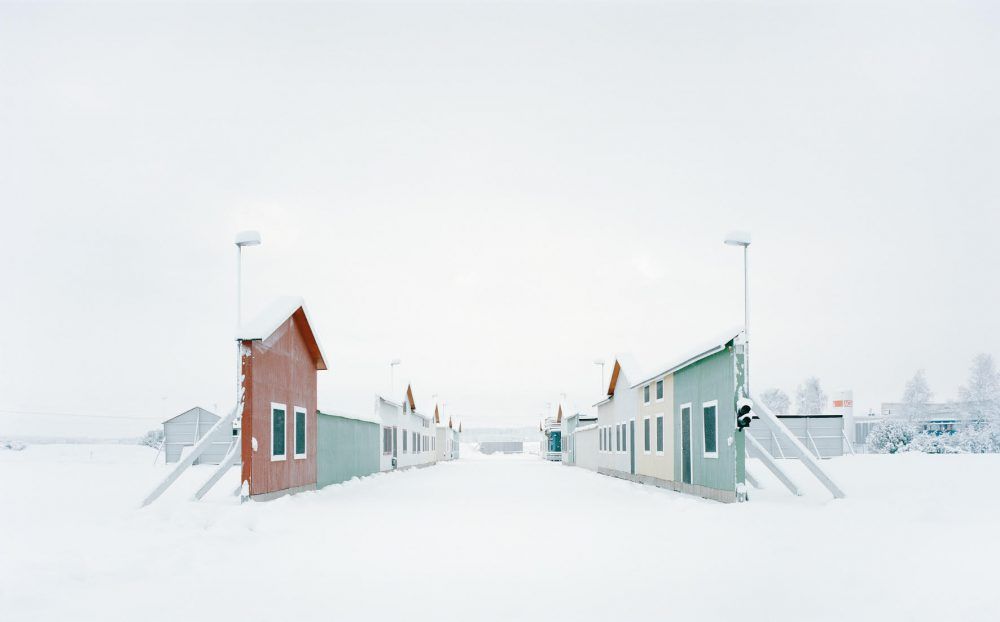 Legend has it that the "Potemkin Village" originated in an effort by Russian Field Marshal Grigory Aleksandrovich Potemkin "to conceal from Empress Catherine the Great the shabby state of the villages in the recently annexed territory of Crimea in 1787. Walter Moser, Chief Curator for photography in the Albertina, Vienna, one of the contributing writers to this tome, labels it "an anecdote most likely invented by Potemkin's political adversaries".
Starting in June 2015, photographer Gregor Sailer, who is based in Tyrol, Austria, traveled to Russia, Sweden, Germany, France, England, the United States, and China in search of Potemkin Villages or, differently put, "fake towns".
In the Russian city of Suzdal, for instance, he photographs faux façades that were pasted onto rundown buildings (in anticipation of a visit by President Vladmir Putin in 2013). He also takes pictures in the city of Ufa, in the Ural Mountains, where in 2015, as Walter Moser writes, "entire streets were masked behind tarps and banners to make it look prosperous and well kept even in the glare of the limelight forced upon it by a Triple Summit of the BRICS states, Eurasian Economic Union, and Shanghai Cooperation Organisation".
Looking at these photographs puts me in a quandary: I know that I'm looking at fake buildings yet I do not see fake buildings. Moreover: Am I really looking at buildings? I'm looking at photographs of buildings that I have been told are not what they seem to be. In other words: I see what I believe that I see.
Photographs, by their very nature, can only show me what has been in front of a camera at a given moment. They do not inform me whether someting is real or not for what they record are surfaces. And precisely because of this I do find looking at these photographs fascinating – I do know that my eyes are fooling me but with the help of my brain I'm able to correct what the pictures suggest. Or, differently put, what I know about a photograph helps me to see it differently.
Some of these fake towns are however clearly recognisable as fakes such as, for instance, Junction City in the US that serves as a training site for combat operations. Or Carson City in Sweden, where the images are arranged in such a way that one firstly gets to see a frontal view of the façades and subsequently the same set viewed in profile or from behind. Unfortunately, the photographer does not provide any information why the fake Carson City was built in Sweden nor does he volunteer clues as to why he chose the sites pictured in this tome – the explaining of the context is done by three contributing writers. From Linde B. Lehtinen's essay "Unreal Photography: Gregor Sailer's The Potemkin Village" I learn that it is a vehicle-test area. On the internet I found this useful and intriguing information:
"Carson City—located in the real town of Vårgårda, an hour from Volvo headquarters in Gothenburg—is the world's only purpose-built simulated city for testing active safety systems. It's run by Autoliv, a Swedish supplier that researches and manufactures safety components for nearly every car brand in the world. (Autoliv's major clients are BMW, Mercedes, and Audi; Volvo develops most of its own systems.) Instead of choosing a Swedish name for the "town," the company was inspired by Nevada's state capital, particularly that city's near-abandonment after the gold rush. (Plus, Carson City sounds a bit like the name of Autoliv's CEO, Jan Carlson.) Indeed, entering the 0.7-mile-long strip is like stepping onto the set of an old Western film; it's a one-block ghost town."
It feels weird looking at these sites for they do not only look somehow unreal – they are. And, at the same time, they are not – for everybody will take them for what they are: fakes. Take for example Thames Town, this very English town near Shanghai, which serves as a tourist attraction. Nobody will mistake it for the real thing – except probably French intellectuals like Jean Baudrillard who, according to Linde B. Lehtinen "posited that hyperreal worlds such as the ones that Sailer explores make the distinction between reality and simulacra less distinct, and that 'illusion in no longer possible, because the real is no longer possible.'" Well, probably not.
Contrary to Judith Lehner who (in her essay "Spatial Perspectives on the Potemkin Village of Today") argues that Sailer's "choice of motif raises not only the question of what is behind the façade, but also what the global interrelations with both the things and the people in this particular place are", I do not entertain such questions but increasingly feel somewhat bewildered by these photographs that, the longer I expose myself to them, I perceive as illustrations of a rather strange variety of children's playgrounds.
The Potemkin Village
By Gregor Sailer
Kehrer Verlag, Heidelberg Berlin 2017
www.kehrerverlag.com
---
Also published on Medium.
---
Location: Online Type: Book Review