Book Review: Continuum by Abelardo Morell, Alyssa McDonald and Irina Rozovsky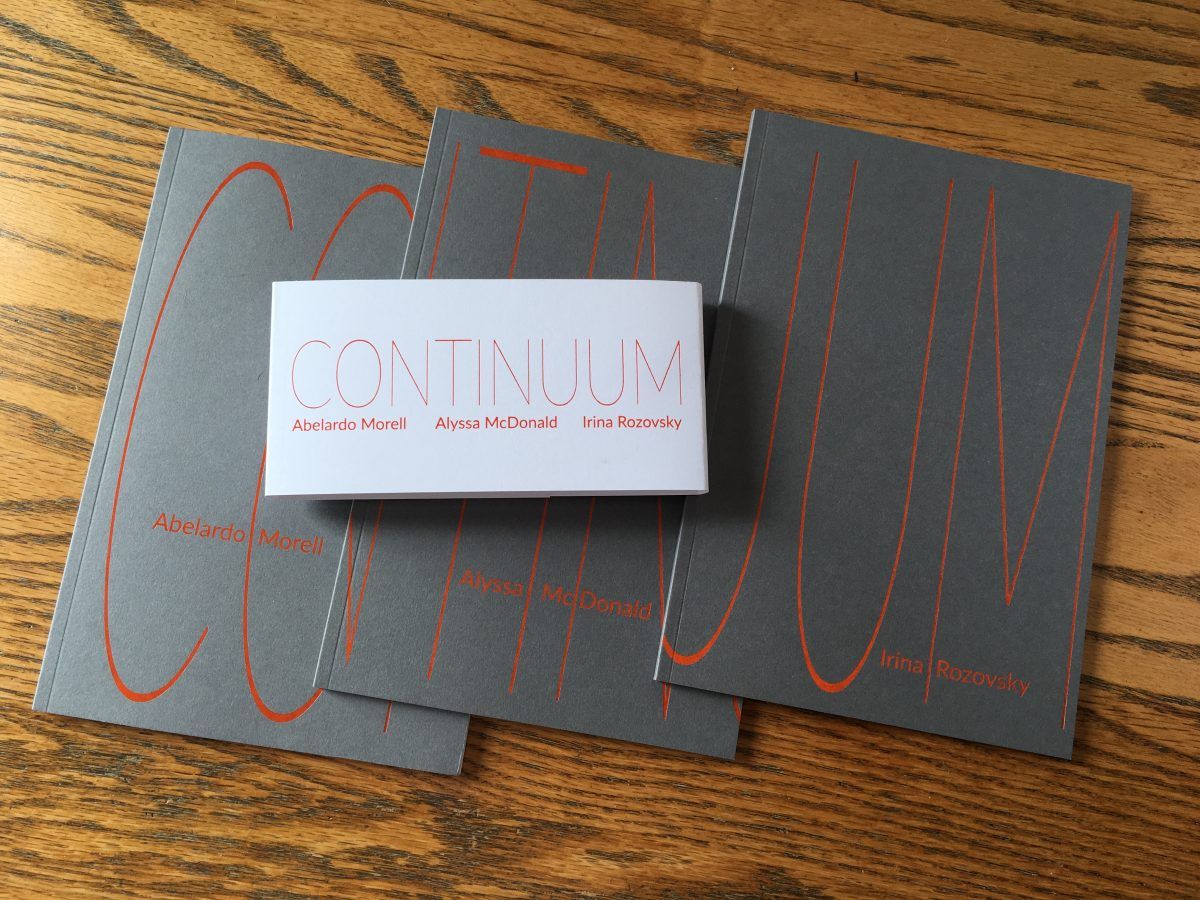 Continuum is the second Yoffy Press Triptych after TRACE was published in late 2018 (reviewed in F-Stop Magazine here), and features the work of Abelardo Morell, Alyssa McDonald and Irina Rozovsky. In each Triptych, three artists are given a word to inspire the creation of a small book of work. The three resulting books are sold as a set, inviting the viewer into the collaboration to make connections between the projects and the overarching theme.
I recently heard a photographer speaking with his former professor/mentor in a podcast interview (check out Ffoton Interviews from Ffoton Wales), and the photographer specifically mentioned the impact made on him by the way lectures were structured and the influences introduced throughout the course. He also made a point to mention that work by certain photographers was included in the lectures, and unless otherwise he may have never learned about them; which made a big impact. The decisions made by the professor were lasting and altering for this student in the decades to follow. Personally, I can trace back many of my photo influences through my former professors and mentors.   
If one studies the history of photography, or even skims an anthology of famous photographers of the 20th century, it's not hard to trace the traveling impact of Strand to Steiglitz, to Evans, to Parks, to Winogrand, to Metzner, to Leibovitz, to Gilden…and so on. Just pick a starting point and follow the breadcrumbs. The path of influence could lead in a number of different directions from any number of different artists; but the core idea remains. Photographers don't create work in a vacuum. In the triptych Continuum, the impact of these three photographers upon each other, Morell, McDonald, and Rozovsky, gives the viewer an opportunity to explore the similarities and differences across their work. Whether it is subtle or direct, the lasting impact can be immeasurable.
To their credit, Yoffy Press has taken the triptych format of publishing in interesting directions. Continuum is another wonderful way for a publisher of photo books to explore themes that are not easily explored. Continuum leads us in a circle of influence asking the viewer to reflect upon the work of these three photographers, and it also invited me to reflect on the influences I had as a photo student and beyond. The three books examine the relationship between student and teacher and how that dynamic can shift, reverse and fuse over time. Abelardo Morell taught at the Massachusetts College of Art and Design for more than thirty years. Irina Rozovsky was his student there and became a teacher herself.  Alyssa McDonald became Irina Rozovsky's student, and later became Abelardo Morell's assistant.  Continuum brings these three photographers together in a way for the viewer to discover the different ways they learned from each other.  This continuum is one of many lineages in the unending and ever-changing collective evolution of photography.
About Abelardo Morell
Abelardo Morell was born in Havana, Cuba in 1948. He immigrated to the United States with his parents in 1962.  Morell received his undergraduate degree from Bowdoin College and his MFA from The Yale University School of Art. He has received an honorary degree from Bowdoin College in 1997 and from Lesley University in 2014.
His recent publications include The Universe Next Door (2013), published by The Art Institute of Chicago, and Tent-Camera (2018), published by Nazraeli Press.  His most recent body of work, Flowers for Lisa, was published by Abrams in October 2018.
He has received a number of awards and grants, which include a Guggenheim fellowship in 1994 and an Infinity Award in Art from ICP in 2011. In November 2017, he received a Lucie Award for achievement in fine art.
His work has been collected and shown in many galleries, institutions and museums, including the Museum of Modern Art, The Whitney Museum of American Art, the Metropolitan Art Museum in New York, The Chicago Art Institute, The San Francisco Museum of Modern Art, The Houston Museum of Art, The Boston Museum of Fine Art, The Victoria & Albert Museum and over seventy other museums in the United States and abroad. A retrospective of his work organized jointly by the Art Institute of Chicago, The Getty in Los Angeles and The High Museum in Atlanta closed in May 2014 after a year of travel. This November of 2019, he will have a show of his work Flowers for Lisa on display at Edwynn Houk Gallery in New York City.
About Alyssa McDonald
Alyssa McDonald is a New England native and photographic artist based in Boston. She graduated with honors from Massachusetts College of Art and Design with a Bachelor of Fine Arts in Photography. Most recently, she has exhibited her photographs in group shows at ROW DTLA for the Lucie Foundation's Month of Photography Los Angeles, SE Center for Photography in Greenville, South Carolina and Millepiani Exhibition Space in Rome, Italy, Aviary Gallery in Boston, Massachusetts and Dehn Gallery in Manchester, Connecticut.  She has work in three upcoming shows in 2019 including a group exhibition at the Rhode Island Photographic Arts Center in Providence, Rhode Island, The Cumberland Valley Photographers Exhibition at the Washington County Museum of Fine Arts in Hagerstown, Maryland and Women Photographers Today at Valid Photo in Barcelona, Spain.  She was part of Photolucida's Critical Mass Top 200 and received an honorable mention in the 12th Annual Julia Margaret Cameron Awards.
Her photographs are rooted in a realm that is capable of being both physical and psychological.  It is through her intense observation of landscapes and characters over the course of the seasons and passing of years, that her subject matter is able to parallel the immediate with the infinite.  Each composition is laden with the history of its landscape and steeped with  experiences of wonder and discovery in the natural world.  With these symbolic values and narratives in mind, she aims her camera at intertwined histories, origins and fates.
About Irina Rozovsky
Irina Rozovsky (born in Moscow, raised in the US), makes photographs of people and places, transforming external landscapes into interior states. She has published two monographs (One to Nothing, 2011, and Island in my Mind, 2015). Her work is exhibited internationally and is in the collections of the Metropolitan Museum of Art, the Philadelphia Museum of Art, and has appeared in The New Yorker, New York Times Magazine, Harpers, and Vice. Irina lives and works in Athens, Georgia where she and her husband Mark Steinmetz run the photography project space The Humid. Irina is represented by Claxton Projects.
---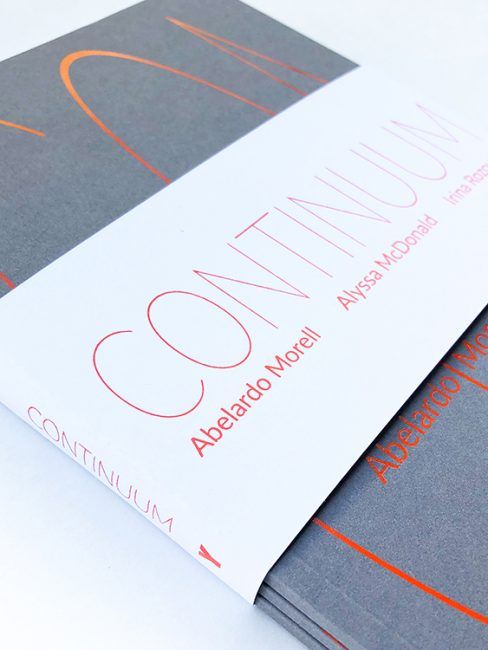 Continuum – Abelardo Morell, Alyssa McDonald and Irina Rozovsky
Published by Yoffy Press
Softcover, set of three books
8.75 x 6 inches – each book is approx. 40 pages
Edition of 250
---
Yoffy Press was founded by Jennifer Yoffy. She founded Crusade for Art in 2013, a non-profit organization whose mission was to engage new audiences with art. Jennifer owned a fine art photography gallery in Atlanta (Jennifer Schwartz Gallery) for five years, and she co-founded Flash Powder Projects, a photographer-focused collaborative venture and publishing company. In the spring of 2013, she traveled around the country in a 1977 VW bus, engaging audiences with photography.
To order a copy of Continuum, or see more titles from Yoffy Press, please visit their website: http://www.yoffypress.com/
---
Location: Online Type: Book Review
Events by Location
Post Categories
Tags