Book Review: Cuba by Manuel Rivera-Ortiz
What a superb cover! was my first reaction to this tome. The two other pics (the one on the cover can also be found in the book) that you see here were not selected by me but by the publisher. The car is a perfect example of a picture that I would never choose for a book. The other however I very much like, mainly for two reasons: One is that it illustrates perfectly that propaganda is to be found all over the island, even when there's nothing else around; the other is that it shows me a wide Cuba that I have never seen myself despite the fact that I've seen quite a bit of the country.
My relation to Cuba is personal – I've been there often between 1996 and 2006 – and so I'm somewhat perplexed to get to see a Cuba in black and white for "my" Cuba is full of colours. Caribbean colours, bright screaming colours, that is, not "neutral", grey-in-grey Swiss colours.
Most pictures in this tome strike me as unexceptional despite the fact that Cuba is an exceptional country in many respects. The ones that appeal to me most were taken on the countryside, in Pinar del Río and in Ciego de Ávila – they show rural scenes of people working in the fields, some of them did pose for photographer Manuel Rivera-Ortiz who hails from Puerto Rico and came to Cuba, in 2002.
"I needed to remember what Puerto Rico was like when I was growing up", he writes. "My Puerto Rico was still alive and well here, on the west at tobacco farms near Pinar del Río, in the east near Playa Girón on the bank of the Bahia de Cochinos, the Bay of Pigs, and further on in Cienfuegos and Trinidad and Camagüey! And new friends – I found a unique community here, foreign to foreigners but not to me, more like a family in so many ways."
Cuba has changed rather dramatically – just think of the recent, totally unprecedented mass protests – since Manuel Rivera-Ortiz's visit in 2002, who, in his introduction relates some basics of Cuban history since 1960 as well as his adventures as a gay man in a macho country. That he then concludes with memories of Puerto Rico in 1976 (!) left me somewhat bewildered. That. however, is probably more due to my expectations than with what he had in mind for he visited the island "on a personal quest for self-discovery."
How does that show in the photographs? Can photographs really be a means of self-discovery? I would not know or, more precisely, I would not know how self-discovery can be made visible. In order to find out what Manuel Perez-Ortiz might have had in mind, I turn to the captions (to be found at the end of the book) that provide quite some information about homosexuality in Cuba but also about everyday life and the dire economic conditions. The caption of a picture that shows a young woman kneeling in front of a statue on a wall reads: "Fidel Castro was an atheist. When he came into power, he nationalized Catholicism. More than half of Cubans then considered themselves Catholic. Still, during Fidel's reign, practicing Catholics were prohibited from belonging to the Communist Party or working for the government. Pope John Paul II visited Cuba in 1998, making Catholicism popular again." I'm doubtful that a photo caption is a good place to deal with this rather complex issue.
So what exactly is the connection between the Puerto Rico of the photographer's childhood and Cuba in 2002? For one, there's the language. "Cubans and Puerto Ricans – so many similarities in the way we massacre Spanish. My Spanish, his Spanish, both breathy, inaudible in how we clip our vowels to create sentences that run into each other. We both clip, dip, and swallow our tongues, feasting on our native language." And then there's the lived life: "Youth is the same everywhere. Drunken parties of reckless abandon and insane neo-noir rebellious thrill-of-the-chase abnormalities thrive despite Castro's anti-capitalistic, pro-socialist, Marxist tendencies, and were themselves hatched under his unique form of communism." Some blurred pictures seem to illustrate such parties. Most photos however show people at work or making errands, some oblivious of being photographed, others posing.
By the way, the captions of the two examples (rather poor translations from Spanish to English) leave quite a bit to be desired: The first one should read: Speeding car heading east to Guanabo on Via Blanca, a highway that connects Havana and Matanzas … The second: "Nos Recuperaremos en el Menor Tiempo Posible" – We Will Recover in the Shortest Possible Time. As regards the rest of this caption: Decide for yourself whether such dated info is useful.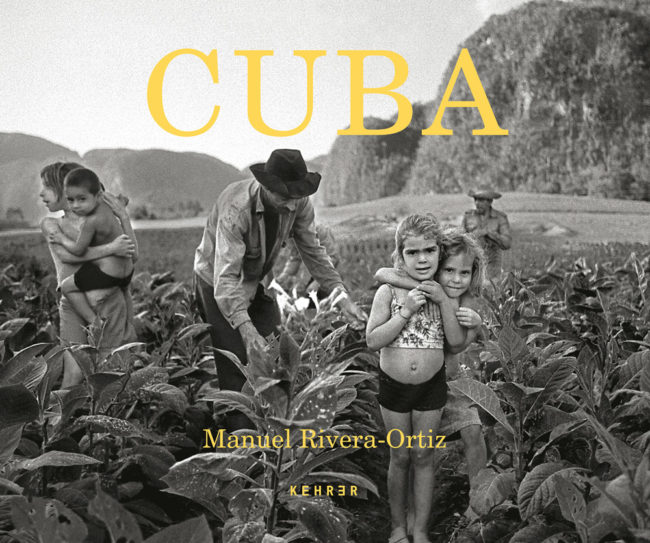 Cuba
by Manuel Rivera-Ortiz
Kehrer, Heidelberg 2021
Book is available here: https://www.kehrerverlag.com/en/manuel-rivera-ortiz-cuba-finding-home-978-3-96900-030-4
---
Location: Online Type: Black and White, Book Review
Events by Location
Post Categories
Tags