Book Review: Finding Home by Becky Field
Photographer Becky Field photographed and interviewed many of New Hampshire's immigrants and refugees.  She interviewed forty people, from different countries, with different stories. Some are men, some women, they differ in age and why they left their home countries, and how come they settled in New Hampshire.
"The photographs were usually taken in a home or work setting. As a documentary photographer, I wanted my images to add to the story of who the people are," writes Becky Field in the preface. Did the people portrayed have a say in how they wanted to pose and to be photographed respectively? Or differently put: Was it the photographer's wish to portray them in the way they're shown? Or was it a decision taken together? I can only guess, of course, but it seems to me that it must have been a collaborative undertaking – the fifth-generation Baptist in front of the First Baptist Church, the dancer who wants to show her culture and thus performs in a traditional dress, the garden lover in his garden.
From the preface I also learn how Becky Field conducted the interviews, I think such information most valuable for, as far as I'm concerned, understanding the process ("Soon the questions were put aside and the story went on in its own unique direction.") that led to this well done book is as essential as the result.
The ones portrayed tell the readers what they have left behind, and why they had wanted to come to the United States. Although their stories vary considerably (no wonder – they come from all over the globe), they all had hoped for a better life. And for safety. What I however largely missed (for my main interest is in how people manage when on unknown territory) was information about what baffled, irritated, and annoyed them in their new homes.
Olivia Babin, who hails from Ukraine, stated: "We arrived in Manchester, New Hampshire, in December 2001. First thing I noticed was that the streets were empty. In Ukraine, everyone walks in the streets and takes their babies out every day." This brings to mind my own experience when visiting the US for the first time, in 1978, as a tourist – the empty streets of small town America where walking around seemed suspicious.
The initial problem of Hari Maya Adhikari & Prem Sagar Khatiwada, musicians from Nepal, was snow, and then the heat. "First we went to Maryland. There was a lot of snow, so we didn't like that. Then we performed in Texas, but it was so hot!" Living in New Hampshire they think however is perfect. "We found so many loving and helpful friends and a big Nepali community here."
For Martha Susana Thompson, born in Venezuela to Colombian parents, it was also the first time she saw snow. Reading this makes me think of my Cuban ex-wife's first encounter with snow – she tried to catch the flakes with her open mouth. And of a young Thai girl in Munich, who, upon seeing for the first time snow falling from the sky, got scared and started to run for cover.
I'm especially fond of the portrait of Emelyne Adios from Burundi, who's well known for her clothing designs, because she makes me smile. "I first worked at Burger King. I didn't know how to make a sandwich. Soon I could make two sandwiches in forty-five seconds … I love to talk and now have a job doing that. I speak French, English, Kinyarwanda, Swahili, and Kirundi." Wonderful!
There is an introduction by Gary Samson, a professor emeritus of photography, who thankfully reminded me of Jacob Riis and Lewis Hine, two of the prominent socially engaged photographers of their time, "who documented the influx of refugees and immigrants to America, their work often exposing difficulties encountered in making a new life in their adopted land." And, there is also a foreword by George Bruno, Esq., a retired US ambassador, who, among other things, states: "Immigrants, and by extension refugees, are good for America. They enrich our culture, bolster our workforce, enhance our creativity, pay taxes, and strengthen our economy. Fifty percent of CEOs in the United States are immigrants or descendants of immigrants." I must admit, I do find this a rather rosy picture that does not correspond with the experience of immigration that I gained as interpreter for the Swiss authorities.
And that is my (slight) problem with this (I repeat: well done) book. It paints a picture of immigration that is too positive and does not reflect the reality in which intercultural problems (and at times hostilities) happen on a daily basis. But then, why should it? Becky Field seemed to have something else in mind. "I hope that these stories and photos inspire us all to feel fortunate and honored to have immigrants as our neighbors and leaders."
The afore mentioned documentary photographers Jacob Riis and Lewis Hine wanted to better the living conditions of the ones they portrayed, what Becky Field does in this tome is different – she gives a throughly positive account of the immigration experience and thus conveys a message of hope. And, this is what our times desperately seem to need most.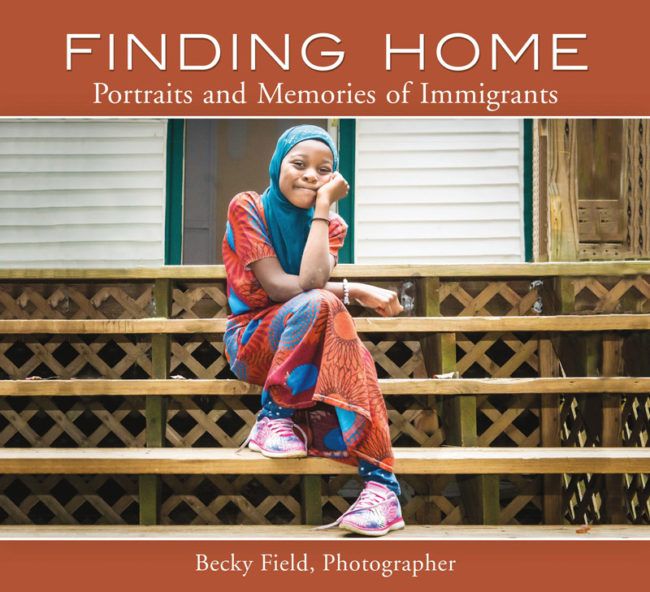 Finding Home: Portraits and Memories of Immigrants
by Becky Field
Peter E. Randall Publisher, Portsmouth, New Hampshire 2021
www.perpublisher.com
---
Location: Online Type: Book Review, Portraits
One response to "Book Review: Finding Home by Becky Field"
Events by Location
Post Categories
Tags