BOOK REVIEW: Mulholland by Karen Halverson
For reasons I'm not really sure of, Mulholland triggers feelings of longing in me. I guess it's to do with the Raymond Chandler mysteries that I read in my youth and that I associate with this winding stretch of road that follows the ridgeline of the Hollywood Hills.
"I fell in love with Mulholland Drive in 1988 at the Metropolitan Museum of Art in New York. Not with the actual Mulholland, of course, but with a picture of it. There was David Hockney's exuberant, twenty-foot-long painting, Mulholland Drive: The Road to the Studio (1980)." With these wonderfully captivating lines photographer Karen Halverson introduces her preface before then elaborating on her move to Los Angeles and her encounter with the real Mulholland Drive.
"For more than a decade before moving to Los Angeles, I made annual trips from New York to photograph the American West … I meandered around a dozen western states, from the mountains of Montana to the deserts of Arizona." But then she happened upon Mulholland Drive. "No more random wandering, no more long-distance driving in search of je ne sais quoi. Now I had a clear route to follow and follow it I did, in one direction or the other, countless times over the course of two years."
I can easily identify with her feeling of sudden clarity and the motivation that arises from it. We need a sense of direction in order to discover life. I find it amazingly fitting that the route she identified to follow is a road – for isn't going through life akin to being on the road?
Karen Halverson photographed Mulholland Drive from up close, from afar, from above, from the side … and thus demonstrates that and how this road is set into a much wider context. Moreover, it connects, and is connected with, everything around it. A road is not only part of a landscape that bridges a beginning and an end, it is also a place from where you can see houses, trees, telegraph poles, plants, a satellite dish on a ridge, power lines etc. from a rather unusual perspective.
Spending time with these varied images makes me once again wonder how miraculously the mind works. I mean, I'm looking at photographs that were taken thousands of kilometers away from where I live and my brain not only makes me believe that I'm there but also brings me back to the time I once spent in Los Angeles.
Karen Halverson does not show us Mulholland Drive, she shows us how she has decided to show us Mulholland Drive. Her photographs represent a choice, they are a personal testimony. And, they are an invitation to look at Mulholland Drive the way she framed it.
There's also a highly informative foreword by writer and Los Angeles native David Kipen, who divides the road into "Mulholland Highway, Dirt Mulholland, Mulholland Drive, and 'Ghost Mulholland'". In doing so, he makes us again see another Mulholland.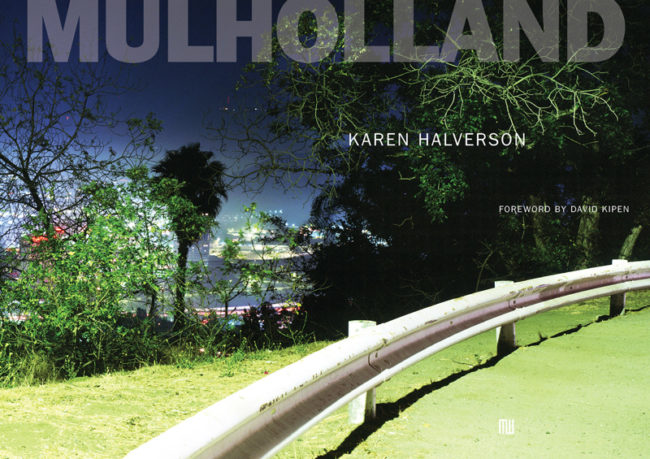 Mulholland
by Karen Halverson
MW Editions
www.mweditions.com
---
Location: Online Type: Book Review, Landscapes
Events by Location
Post Categories
Tags