Book Review: You Are Eternity, You Are the Mirror by Marcy Palmer
You Are Eternity, You Are the Mirror is an elegant exploration of Beauty in a time when so much of the world is focused on anything but. Palmer presents an antidote to personal and political crisis. In times like what the world has experienced in the past twelve months, many people turn to beauty found in the natural world for solace and refuge. 'You Are Eternity' makes the choice to pair Palmer's images with the writings of Kahlil Gibran; which highlights the significance and meaningfulness of the idea of beauty in our lives. To be still and look with wonder or appreciation at life's beauty is a treasure. For better or worse, the past year has provided the opportunity to re-consider the world around us in this way.
Palmer's images are of plants and flowers, which are printed with a technique that reminds me of solarized photographs, or the reduced range of tones or details that a cyanotype or ortho print would give. The originals are photographed, printed on vellum, and hand-applied with 24k gold leaf, varnish, and wax. Each is an object in and of itself. The project is inspired by Anna Atkins's botanical studies as well as surrealist photographers like Florence Henri and Maurice Tabard, who manipulated imagery and materials to create multi-faceted, imagined spaces that deepened the viewer's experience. The idea of a stand alone object has been applied to the manner of printing and binding of the book as well. The book is printed and bound with Japanese/French folds which, when opened and allowed to expand, are an accordion style experience of paging through the project. Instead of leaving this book closed and inserted with other books on a shelf, I've chosen to have it stand alone so the golden hues of the pages and the volume created by the pages allow the book elements to be seen.
The images themselves are crafted, brought into being by a hand-made process with many steps and aspects that create one of a kind originals. Palmer photographs the objects, manipulates them digitally by converting them to black and white or doing further post-production, and then makes her final selections on which to print. She then prints them on vellum and applies the gold leaf, varnish, and wax by hand. While this approach is not unique with other analogue, vintage photographic printing techniques, it is definitely not the norm for the 'screen-first experience' with much of photography we experience on a daily basis. The specific, personal nature of the images lends itself easily to the contemplation of the accompanying texts, and consideration to how one fits into the universe, nature, or our collective 'former' lives readily follows. The images themselves in the book range between dimensional and flat. If you've ever seen a genuine daguerreotype, you might understand the nature of witnessing a photograph that has unexpected depth and physicality. This is the type of visual experience I'm referring to – the viewer is not merely looking 'at' an image, one is looking 'through' it as well. I'm not one to normally take considerable time to thoughtfully consider the worlds-within-worlds aspect of botanical prints paired with poetic text about beauty – but here I am; soaking it up.
The intimate size of the book, the personal nature of the writings by Gibran, the direct touch of Palmer in creating these images – all combine to create an objet d'Art worth treasuring, keeping and cherishing. This work helps process the feelings I've felt over the past year. The multifaceted aspects of our collective experience with a viral pandemic, social movements and pain – can be soothed by appreciating nature and all it holds. Palmer has acutely tapped into this feeling, and this book is a welcome, yet unexpected, highlight in the scope of photo books I've experienced in the past year.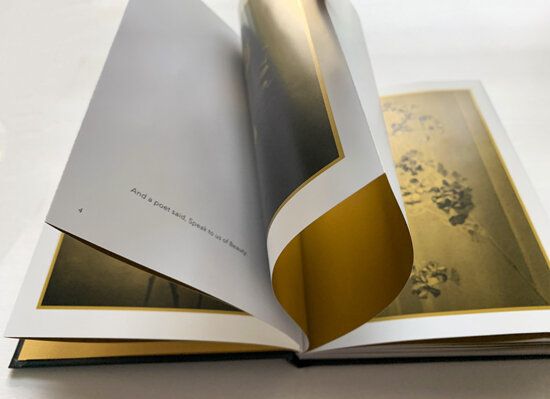 You Are Eternity, You Are the Mirror by Marcy Palmer
Text by Kahlil Gibran
Hardcover, 5 x 7 inches
96 pages, french folds with gold interior
Edition of 350
Published by Yoffy Press
---

Marcy Palmer's work circles around themes of home, beauty, nature, and science. She has an M.F.A. in Photography & Related Media from the School of Visual Arts and a B.S. in Studio Art from Skidmore College.
Palmer's work has been exhibited both nationally and internationally including The Griffin Museum of Photography, The Brooklyn Museum of Art, The Ogden Museum of Southern Art, The Center for Fine Art Photography, The Berlin Biennial of Fine Art and Documentary Photography (GE), and other venues.  Marcy's work has been written about in The Boston Globe Sunday Edition, D Magazine, Ain't-Bad, Lenscratch, and other publications.  She currently resides in Dallas, TX. www.marcypalmer.com
Yoffy Press is an independent publisher dedicated to pushing the boundaries of phonebook publishing. Working in true partnership with artists, we look beyond the book as a container of images, integrating physical and conceptual design to create distinct art objects. Visit Yoffy Press at www.yoffypress.com/
---
Location: Online Type: Book Review, Nature
Events by Location
Post Categories
Tags