Book Review: Old Is New by Hiroshi Sugimoto and Tomoyuki Sakakida
The firm New Material Research Laboratory (NMRL) was founded in 2008 by Hiroshi Sugimoto (born 1948) and Tomoyuki Sakakida (born 1976) and is guided by the idea that "The oldest things are the newest." Since I'm at a loss what this exactly means, I turn to the press release that informs me that "Sugimoto and Sakakida founded New Material Research Laboratory with an aim to develop "new" materials for construction based upon much older materials and techniques. The NMRL reinvigorates material from ancient times and the Middle Ages by using it in the context of a distinctly contemporary design sensibility and thus creating a physical connection between the past and the present."
My interest in this tome is two-fold: On the one hand, things Japanese (mainly Zen ideas and design) have accompanied me throughout my life. Moreover, after a visit to Japan, two years ago, I became fond of writers like Haruki Murakami, Keigo Higashino and Mieko Kawakami. On the other hand, my fascination with the world of pictures that started with documentary photography (the stories behind the picture) has over time turned into being mostly attracted by the surface (what has been framed, that is) and it is the art of framing that defines architectural photography for me.
"On the Founding of Shisoken New Material Research Laboratory" is Hiroshi Sugimoto's prologue to the book in which he elaborates on how he introduces himself to others. From theater director to sculptor to culinary researcher, depending on whom he is talking to. "I suppose I must be a photographer, too. I have never thought of myself that way, however, since I do not roam the streets with a camera around my neck." A rather special definition of a photographer, Id say.
"In any case, what I am is not for me to decide. That power lies with the people I work with," he writes, an attitude surely rather foreign to the ego-obsessed Western world. Also, he does not see himself as a professional of any sort, "my goal is to glimpse what lies just over the horizons imposed by the status of not being a professional of any field."
The authors' profiles describe Sugimoto as "a multidisciplinary artist" who "works in photography, sculpture, installation, performing arts, architecture, gardening and gastronomy," and Sakakida as an architect who is "currently teaching at Kyoto University of Art and Design".
How does an accomplished photographer come to architecture? Through three different routes, I learn. When his photographs were exhibited in art museums designed by famous architects such as Daniel Libeskind, Frank Geary and Jean Nouvel, Sugimoto's practical concern was how to structure the spaces where his photographs and his three-dimensional works were displayed. "Through his confrontation with the architect's ego seeking to exert control over particular spaces, including the galleries, Sugimoto inevitably began to progress toward constructing his own exhibition spaces." In other words, when two egos crash, sparks fly and … in this case, something new was created.
The second route was through his photographic works – he photographed a large number of modern and contemporary buildings from the late nineteenth century onwards, from the Brooklyn Bridge (1883), the Eiffel Tower (1889), the World Trade Center (1973) to the Guggenheim Museum Bilbao (1997). The third route was his long time as a collector of Japanese antiquities that made him "walking around various parts of Japan looking at temples and shrines, and came to understand the way that Japanese architecture has transformed since the construction of Horyuji Temple (607)."
As always in photography, the question is what to put inside the frame and what to leave out. And, how to organise what one has decided to show. The photographs in this tome appeal to me because of what I consider "their Japanese-ness" by which I mean that they radiate simplicity, discipline and an aura of less is more. In order to take such photographs a focussed mind is required that combines openness with a distinct feeling for form. And this, in my experience, results in a sense of wonder that is touching.
My approach to these photographs is to simply look and see. In order to see it is necessary to make an effort to rid myself of the preconceptions that I'm aware of, and especially the conditioned knowledge that informs my understanding of the world. Needless to say, to empty one's mind is only possible to a certain extent yet making an effort helps. "… I craft what might be called the quality of space," Hiroshi Sugimoto says. And this, I imagine, can be felt.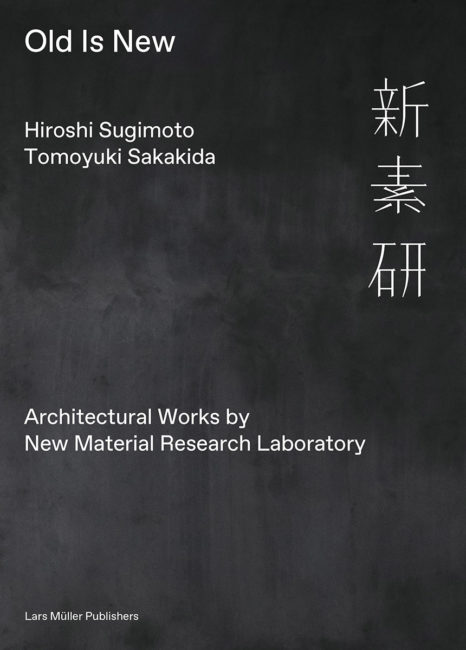 Old Is New
Photographs by Hiroshi Sugimoto
With contributions by Hiroshi Sugimoto, Tomoyuki Sakakida, New Material Research
Architectural Works by New Material Research Laboratory
Lars Müller Publishers, Zurich 2021
https://www.lars-mueller-publishers.com/old-new
---
Location: Online Type: Architecture, Book Review, Landscapes
Events by Location
Post Categories
Tweets
Tags