Book Review: East of Nowhere by Fabio Ponzio
During these last months, because of the war in Ukraine and its horrors, I have thought a lot about wars, about the weak. I think of the losers.
I think of the east as a geographical place and, above all, as an idea. An idea that has always belonged to me.
The East has always been a true story for me; the East has always been able to tell me about itself through the eyes of its people, with gazes as hard as ice and sincere as the flowers that pierce the snow. Surprising without being indiscreet.
The East has always supported my way of travelling: wandering apparently aimlessly, if not differently from curiosity and the need to let myself be amazed.
This last period of geopolitical pressure (I write from Italy, very close to the Ukrainian war and its echoes), and the consequent impossibility of reaching the East, has sharpened in me the need for the essential, for comparison with my roots.
So I started looking, exploring. Wandering the meanders of the net I came across some shots, moreover very small in size, and a few lines on Fabio Ponzio.
Having already witnessed interesting journeys, and tired of his activity as a freelance journalist in Italy, Fabio Ponzio decided, in 1987, to pack his bags and leave with "a car, a sleeping bag, a tent, a gas stove, a Leica, three Nikons and a hundred rolls of film in the trunk". [Fabio Ponzio]
He wanted to rediscover "the essence of the gaze, the physical effort of walking, the joy of composing images and the joy of being free". [Fabio Ponzio]
Istanbul was the first stop on a journey that lasted 22 years, taking the author to Poland, Czechoslovakia, Germany, Hungary, Ukraine, Russia, Romania, Bulgaria, Turkey, Yugoslavia, Albania, Armenia, Georgia.
A journey of transition through regimes and which was not only geographical but also historical. Of a story made of dark and light, black and white.
And the black and whites of Fabio Ponzio's shots have a sensual roughness. The scenes attract in an ancestral way that refers, to name two that everyone may know, to the Koudelka of "Exiles" or to the Cartier-Bresson of the Spanish incursions, but with the disenchanted gaze of those who still cannot explain the dissolution of the socialist bloc after living it.
"I began to identify my defeats with those of the people of the East, and consequently to think of them as my own people… Their portraits here hung on the walls of my house for years, and I spent whole days and nights searching of a sequence and a sense." [Fabio Ponzio]
In 2020, "East of Nowhere", a synthesis of twenty-two years of work, was published by Thames & Hudson in Great Britain and the United States and, in 2021, by Actes Sud in France, with the title " A l'Est de Nulle Depart". The preface is written by Herta Müller, German writer, born in Romania and winner of the Nobel Prize for literature in 2009.
"East of Nowhere" is not just a book that reminds us of how important it is to know how to tell, in photography. Fabio Ponzio's book reminds us of how fundamental the component of truth, of representation of reality and of technical imperfection is, in the very definition of photography.
Imperfect images of perfect moments. No other words are needed.
East of Nowhere, Fabio Ponzio
Published by Thames & Hudson
21.4 x 27.5cm
158 pages – Year 2020
ISBN:9780500545201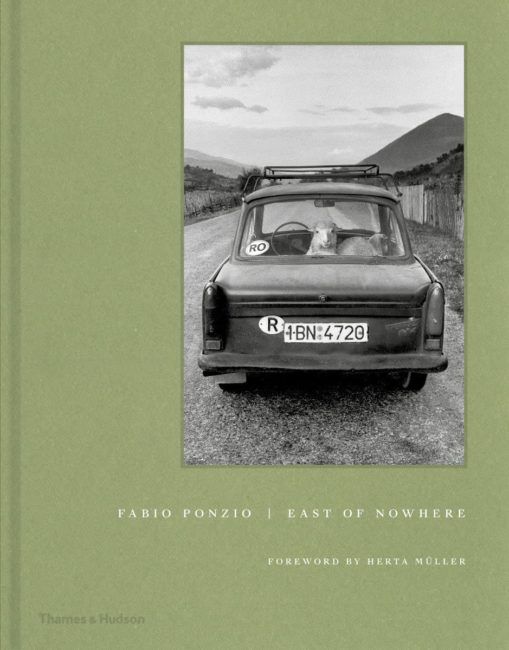 ---
Location: Online Type: Book Review
2 responses to "Book Review: East of Nowhere by Fabio Ponzio"
Events by Location
Post Categories
Tweets
Tags