Book review: The Fragility of Fatherhood by Troy Colby
The images Troy Colby includes in The Fragility of Fatherhood remind me of feeling calm amidst the chaos of being a parent. Colby shows us candid images of his child in various states of emotion: being sad, content, daydreaming, aloof, or asleep on the couch. Perhaps he is posing, maybe he's really asleep in some of the images, either way I felt the sense these images are not rushed, not hurried. We see images of his son as well as his wife, Shellie. These scenes are uncomplicated and accessible because needless things are not in the frame. Nothing distracts from the matter at hand. His images are definitely not a reflection of the frantic, break-neck speed of schedules, activities and events which I know are a staple in many parent's day-to-day existence. Time slows down and Colby shares photos which are like single pages in a life-story that's still being written.
The work in The Fragility of Fatherhood was created over a period of roughly five years when Colby was in graduate school and helping care for his wife and children. Without expressly or blatantly documenting it, Colby responds to his experience, has the courage to be vulnerable, and shows the relationship he and his family had during that time. This sublime, unending experience has happened to countless families, over thousands of years, and it will happen again and again.
Colby's book shows the viewer that the difference is in the Here and Now. He has taken a blank page in the history of All Families, and included his memories of this time in their lives. The photos are all black & white, and the format of many of the images are horizontal or landscape orientation. This helps impart the stable, calm feeling I get from the work, I'm sure. And there's an unguarded safety in the way the figures present themselves for his camera – His son contorts himself into a backbend on a mattress, or stares into the middle-distance instead of directly at his father behind the camera, or if his wife or his son are looking directly at the camera, they appear disarmed without looking vulnerable.
Colby transforms these scenes into humble, enduring glimpses into his experience as a father. He explores the timeless aspect of what it is like to know your family, and explore the role one has within it. In the end pages of the book, Colby includes the poem he wrote, The Fragility of Fatherhood. The poem begins:
Hold my hand and hold your breath.

I am learning as I pretend to know what I am
doing. I am so tired and worry more about you
than myself. I am restless in this domesticated
life. I long for more for you and myself. Things
seemed easy when it was only the pitter-patter
of your little feet. Life can be so unkind.
The bittersweet sadness is almost palpable – like paging through a family album, remembering people and places long-gone, children who are now all grown up. And unexpectedly, you realize in hindsight that life can be painfully short and you should cherish the time you have.
One of Colby's images shows him holding his son. Colby is approaching middle age and his son is probably at least 12 or 13. Colby is cradling his child as best as possible – his son is probably at least 5 feet tall and 120 pounds. But the placid expression on Colby's face, and the long, adolescent legs draped across his arms and the obvious teen/pre-teen child in his arms evokes the feeling of 'letting go of holding on'. It's enough to make my eyes a little dewy with longing for small children in my arms.
Life can be so unkind.
::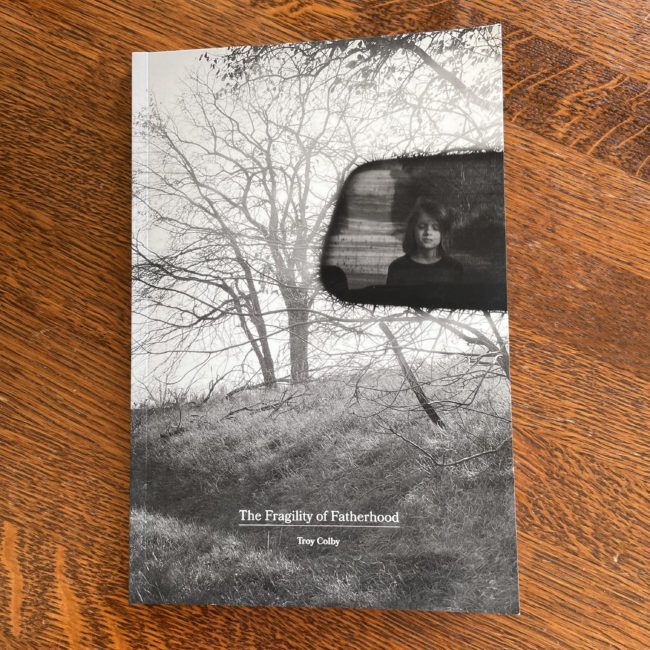 The Fragility of Fatherhood by Troy Colby
80 Pages / 6 x 9 in. / Perfect Bound / Softcover
Edition: 150 copies
Published by Too Tired Press, 2022
::
Troy Colby was born in rural Kansas in 1975 and currently lives in Lawrence, Kansas. His work and research explores the delicate balance of family, fatherhood and the outcome of the family photo album. Motivated by intellectual and psychological inquiry of these intimate topics, Troy photographs his own family as a means of understanding the emotional qualities that come along with fatherhood. It has become his means of understanding while creating an honest interpretation of the idealized family album.
Learn more about Colby's work at his website, and the book at Too Tired Project
---
Location: Online Type: Book Review
One response to "Book review: The Fragility of Fatherhood by Troy Colby"
Events by Location
Post Categories
Tags