Book Review: This is Bliss by Jon Horvath
A mix of styles and varied tropes of photographic storytelling are paced throughout Jon Horvath's first mass published/distributed book, This Is Bliss. Horvath crafts a story constructed from one-part archivist, one-part curator, one-part Beat poet, with a dash of independent filmmaker thrown in for good measure.
Horvath draws strength from a variety of styles without watering down the visual feel of the project. The multiple styles of photography and lens-based artwork within This Is Bliss fully supports the narrative of Horvath's story. The book contains work which includes full contrast & stark black and white photos, studio-lit catalog shots, understated color photos (which remind me favorably of Stephen Shore's work), and lightning-like photo flash in the middle of the night… illuminating signage or structure, or a pile of gritty, dirty snow.
We see images presented in a frame by frame manner – a film-still-esque series of someone skipping a rock across the water [Skipping Stones Across the Snake River Canyon (after Evel)], and the straight documentary images of landscapes. Horvath documents unassembled model airplane parts and a corresponding sheet of decals. Horvath catalogs these related and dissimilar items as markers in the journey of this tale. This example and others evoke a nostalgic and contemporary mindset – are these scenes a construct of narrative storytelling, or narrative fiction? 
There are echoes of Alec Soth, and his 'Sleeping By the Mississippi', here…and of Irving Penn's 'Underfoot' series of objects and detritus photographed as isolated objects, some of which he photographed in his studio against a white background. The interplay of style contrasted against style kept me engaged throughout the book.
One photo series presents colorful flowers arranged in vases which are crammed with jellybeans and marshmallow bunnies. In humorous fashion, the wood-grain contact-paper background shifts and peels away from the wall in various stages of disarray as the series progresses. By comparison, we are also shown scenes of decay and the influence of industry upon the western landscape…part of the commentary Horvath presents. There are quiet portraits of people Horvath may or may not have known – but definitely had chance encounters with. Black-on-black, darkly printed printed landscapes (Burial Site of 18 Unidentified Chinese Rail Workers, 1883) which evoke Dawoud Bey's powerful recent work, as well as handwritten letters and as diary-entry confessions scripted on a tifecta of diner receipts – waxing poetic on corn fields, cowboys and Hamlet. Oh, how I love the ephemera.
The book ultimately is a trans-media narrative project investigating the vanishing roadside geography and culture of a rural Idaho town – actually named Bliss.  Part documentation, partly crafted storytelling – the project considers how mythologies of place and happiness collide, and are frequently confounded, in the context of the mythical 'American West'. The reality is that all that remains in Bliss is two gas stations, a school, a church, a diner, and two saloons to service its present population of 300 souls. The project considers how mythologies of place and happiness intersect. In this diaristic/constructed look at the contemporary landscape and its residents, This Is Bliss presents romantic visions of the American West in contrast with contemporary reality and examines how perceived idealism is envisioned on Horvath's personal and our collective cultural level.
A pleasant inclusion is found at the end of the book; Horvath includes his own writing, Coyote. It is a short-story fiction which reads like a combo of Kerouac, J.D. Salinger, and I dare say Steinbeck; all of whom write characters which are often complex and flawed, but they are always human. They make mistakes, they have regrets, and they sometimes hurt the people they love. But they are also capable of great love, compassion, and understanding. This aspect is something which is common amongst Horvath's portraits and images in other projects of his – intimate views of real people in their environments. We see this aspect clearly in his image on page 29:  a contemplative young woman sitting alone at a greasy-spoon restaurant counter, lost in thought, wrapping silverware with thin paper napkins, and stacking them into a neat pile. This is intimacy, presented in an immediate, personal experience as witnessed through Horvath's eye. I don't care if it was staged or witnessed – it is an scene which stopped me in my tracks. It could be Horvath's Nighthawks.
This Is Bliss embraces the act of photographic wandering, creating narrative by seeking moments of discovery and identifying parallels between seemingly unrelated events. It functions in a similar way as a diary or an archive or database; a literal or visual repository for reflection, insights, and passing thoughts about anything encountered within the commonplace. 
 ::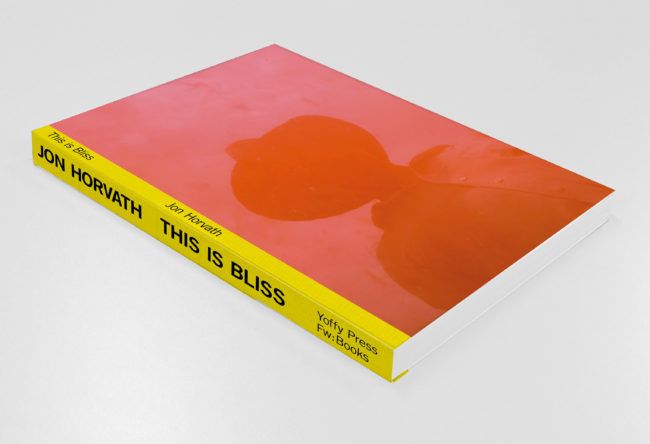 This Is Bliss
Photographs by Jon Horvath
Designed and Co-published by Hans Gremmen/Fw:Books
Yoffy Press
Softcover, 11.8 x 9.4 inches
280 pages
Edition of 500
::
Jon Horvath is an interdisciplinary artist routinely employing systems-based strategies within transmedia narrative projects. He received his MFA in Photography from UW-Milwaukee in 2008, and a BAS in both English Literature and the History of Philosophy from Marquette University in 2001.
Horvath's work has been exhibited internationally in solo and group shows at venues including: The Print Center (Philadelphia), FIESP Cultural Centre (Sao Paolo, Brazil), Gyeonggi Art Center (Suwon, South Korea), OFF Piotrkowska (Lodz, Poland), Newspace Center for Photography (Portland), the Haggerty Museum of Art (Milwaukee), INOVA (Milwaukee), Colorado Photographic Arts Center, Manifest Gallery (Cincinnati), Johalla Projects (Chicago), and The Alice Wilds (Milwaukee). His work is currently held in the permanent collections of the Philadelphia Museum of Art and the Haggerty Museum of Art, and is included in the Midwest Photographers Project at the Museum of Contemporary Photography. Horvath currently teaches in the New Studio Practice program at the Milwaukee Institute of Art & Design.
---
Location: Online Type: Book Review
Events by Location
Post Categories
Tags