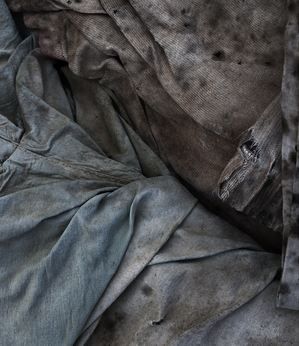 Exhibition: December 8 – January 28, 2012
Reception: December 8, 6 – 8pm
Sous Les Etoiles Gallery is thrilled to present "Last Refuge" a new series of photographs from David Zimmerman. Please join us Thursday, December 8th, for the opening night from 6 pm to 8 pm with the artist in attendance.
With Last Refuge, his new series, David Zimmerman brings us to New Mexico's vast desert, where a community of people, who by choice or by circumstance, live in a place with no electricity or water. These people are not outcasts or drifters however – on the contrary; they are quite happy to live on the fringe, as far as possible from the mainstream. Their homes are primitive shelters fashioned from good intentions, scraps, and eventually clothing. As the weight of the roofs eventually collapsed on homes, people moved on.