hide: Wisconsin deer stands by Jason Vaughn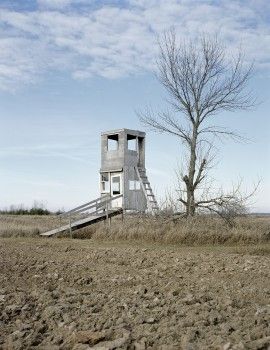 Wisconsin deer stands fascinate me. Some hide along the tree line, some stand proudly in the middle of a field. Some are simple shacks built into the branches, others are free-standing structures with carpeting and television. As I carry my photography equipment long distances to reach them, I relate to the sentiment that I hear from hunters: part of the joy of hunting is the peacefulness, the escape, and the experience of nature.
Unfortunately, I have learned during this project that the joy of hunting is being compromised by a most unlikely source: other hunters. During the beginning stages of hide, I met one hunter who went on a 10-minute rant about his hatred of stands and how he wished every one would burn to the ground. Another hunter I met had four of the most elaborate stands I've seen, but said he would not be hunting this season because the rifle hunters in his area were becoming dangerous in their carelessness. Hunters cite the story of Chai Vang, who killed 6 people in a dispute over a deer stand in Wisconsin in 2004.
The issue of stands is not a benign one. Some feel that the deer stands give the hunter an unfair advantage. Some call the stands an "eye sore" that disrespects nature. The Vang shooting occurred over the issue of private versus public lands. This issue was recently addressed by the Wall Street Journal. Hunters are building elaborate stands on public lands, and the DNR is torn between cultivating a hunting tradition and protecting public lands. I include this article here to highlight a fact that I discovered over the years I have worked on hide: deer stands can be simple in their beauty but complex in their implications.
The link to the Wall Street Journal article:
http://online.wsj.com/article/SB10001424127887324073504578107301509037788.html
-Jason Vaughn
hide on f-stop magazine: http://www.fstopmagazine.com/jasonvaughn.html
---
Posted in Photographer | Tagged Featured Photographer