Book Review: waterforms by Dorothy Kerper Monnelly
"My photography depends on access to protected open spaces and would not be possible without it. It is the quiet, natural landscape that inspires and nurtures. Behind that experience is the dedication and advocacy of local and national conservation groups, along with all who value land protection and contribute in any way", writes Dorothy Kerper Monnelly in the acknowledgements section of her "waterforms"
There are two major subjects that "waterforms" portrays: the forms and patterns that water creates on the land and the ice patterns that form in fresh water streams. Both are subjected to changes in temperature and powerful winter winds. "I quickly learned that to photograph ice patterns, the critical extra ingredient is warm clothes!"
Dorothy Kerper Monnelly also writes (in her artist's statement) that "Fine Art Photgraphy is the language of the inner eye – the inner self that responds without knowing. It is an intuitive dialog that speaks as an image. It is a search for truth … for the song!"
"waterforms" starts with a series of pictures with captions such as "Ice Pattern 26, Ipswich, MA, 1/2016", "Ice Pattern 25, Saco River, NH, 12/2014" or "Ice Pattern 13, Ipswich, MA, 1/2003". Without knowing that I'm looking at ice patterns I would have very probably never guessed it. In other words, I'm glad I'm told that there are ice patterns in front of my eyes although the additional caption information is probably more of interest to the photographer (reminding her when and where the picture was taken) than to the reader.
What my eyes are seeing are intriguing shapes and forms that could have been drawn or painted. It is not obvious to me that these are photographs. There are however other pictures that are easily identifiable as photographs, even without the captions.
Yes, water does form the land indeed and in most fascinating ways. What these superb black and white photographs make me aware of is how creative, artistic and uncontrollable water is. What I get to see is an incredible and unpredictable variety of shapes and forms that my conscious self impossibly could have come up with. To me, these photographs demonstrate impressively that water follows its own ways. Sometimes we are able to identify what we see (Wet Meadow Grass, Sheffield, MA, 5/1993), sometimes we can only guess and, needless to say, some guesses might be more informed than others (Surf Carved Rock 1, Hole in the Wall Beach, Olympic National Park, WA, 8/1996).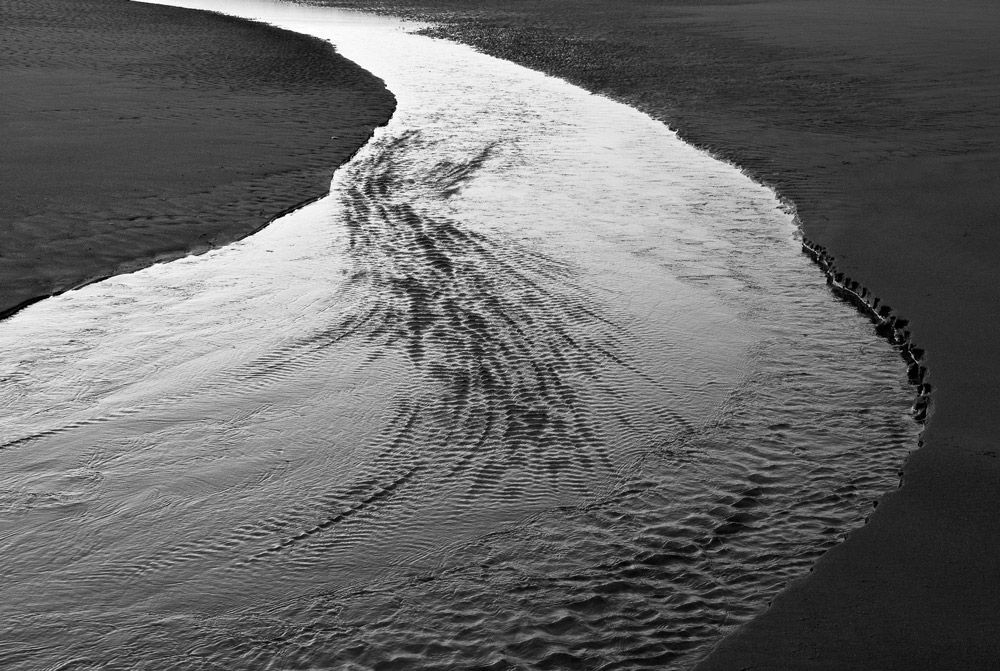 "waterforms" is an invitation to contemplate the mystery of water. I do not feel tempted to analyse or interpret what my eyes are showing me. I simply enjoy the fabulous art that water has come up with. Just look and see!
To me, the real artist here is the water – and not the photographer. This is not intended to diminish the photographs. Quite the contrary, for without these photographs most of us would very probably never have seen such truly stunning scenes.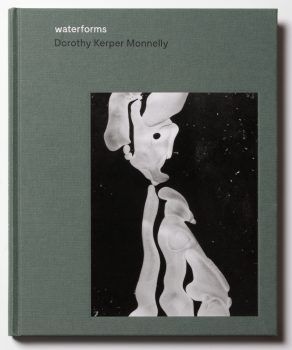 waterforms
by Dorothy Kerper Monnelly
Published by Sector Photography
Verlag Kettler, Dortmund, Germany 2016
www.verlag-kettler.de
---
Also published on Medium.
---
Posted in Photographer | Tagged Book Review