Book Review: Elena Perlino's Pipeline
Elena Perlino, a documentary photographer born 1972 in Italy, lives in Paris and attempts, as I read on the back cover of her book Pipeline, "to show the complexities and contradictions" of migrant Nigerian prostitutes' experiences in Italy. I'm not really sure how photographs can actually show that … I'm not saying that the life of "sex slaves" or "victims of trafficking", as they are mostly referred to in this book, is not full of complexities and contradictions – it is, it is! (and, by the way, what is not?) – yet photographs, by their very nature, are reductions of complexities and thus not exactly apt at showing them.
Elena Perlino seems to be aware of this which is why this book comes with texts that, in addition to the pictures, try to express that complexity with words. The one text I warm to most is The Girls from Benin City (the capital of Edo State) by Laura Maragnani and Isoke Aikpitanyi that begins like this: "A week had gone by and Judith said: you can't stay here with no money and no job. You've got to pay for your food, pay some rent. You've got to work. And for anybody without papers, there's only one kind of work."
Why call a book on human trafficking "Pipeline"?  "The local papers call the routes travelled by the sex slaves the 'pipeline'.  And to tell the truth there is not much difference between the girls and the oil: both mean big money," writes Giuseppe Carrisi in La fabbrica delle prostitute. Well, big money not for the girls for it would otherwise be difficult to understand  why "trafficked women sometimes end up becoming traffickers themselves, or drug dealers." Probably because there's more money in that.
As regards the photographs: I didn't think them (many of them, that is) convincingly framed or well-composed but some are. Here are two examples: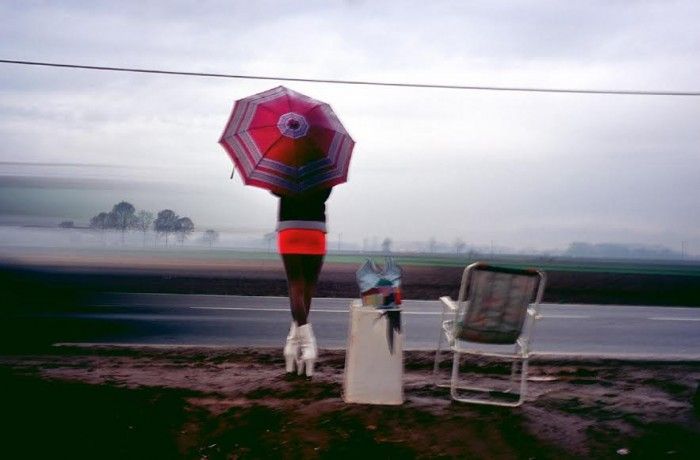 Some pics were (intentionally, I suppose) blurred, often I had to guess what I was looking at. It would have been helpful had the circumstances of the picture taking been explained.
Although Pipeline is full of photographs, I do not understand it chiefly to be a typical photo book (in which the well-captured picture matters most). Rather, I see it as a document that makes use of very diverse images to highlight a social problem.  And, does it succeed in that? Yes, absolutely!
---
Location: Online Type: Book Review
Events by Location
Post Categories
Tweets
Tags