Interview with photographer Jeff Phillips
F-Stop Magazine: How did you first become involved in photography and what led to you working in this medium as an artist?
Jeff Phillips: I've been obsessed with photography almost as long as I can remember. I was first attracted to the camera as a gadget—a mysterious machine able bring time to a standstill. Like many, I photographed for my school newspaper, learning how to develop film and make prints. The very first time I saw an image appear in the developer tray—under the glow of the safelight—I was hooked.
In the 1980s and early 90s I worked as a darkroom printer, a photographer's assistant, a commercial photographer and eventually as a studio manager. Since then I have concentrated solely on making my own work.
F-Stop: Can you discuss your process for making these images or your creative process more generally?
JP: I have always envied artists whom are able to plan and execute a body of work that supports a premeditated thesis. My approach is quite clumsy and inefficient: I stumble through time photographing a variety of subjects, adding any promising new images to one of several conceptual buckets. Eventually a theme emerges, and at that moment I Iearn something about myself.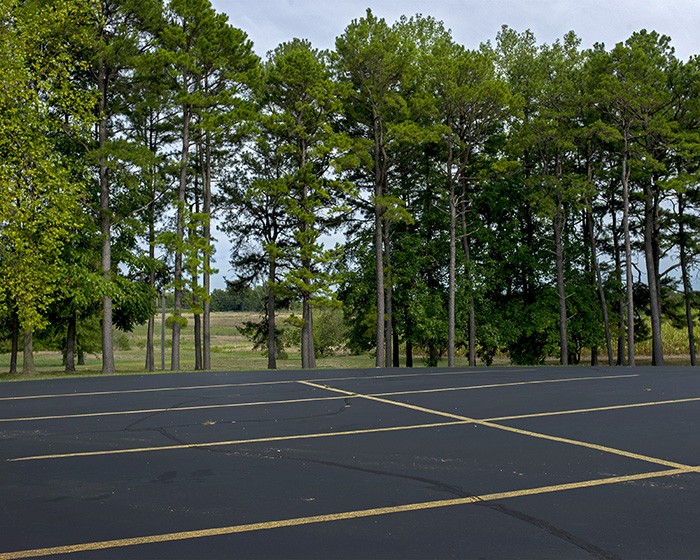 F-Stop: How did the "Humans | Nature" project come about?
JP: Humans | Nature is simply one of the "buckets" that has helped me understand and express how I feel about the environment within which I exist.
F-Stop: How did you choose what to photograph? What are you looking to capture in these photographs?
JP: I capture scenes that contain (or that may be manipulated to communicate) conflict and contrast. To achieve this, I look for competing messages, colors or textures.
I'm attempting to capture the absurd relationship between mankind and the natural earth. I'm not an activist and I don't photograph fracking sites or oils spills; the images in this emerging series show a more subtle cause or effect. In the most recent images, humans are completely absent from the photographs, although there is evidence of their activities.
F-Stop: What do you hope people see or feel or perhaps learn when they look at your photographs?
JP: My best hope is that viewers will laugh—or at the least, shake their head at the absurdity of the scenes I've captured.
F-Stop: Do you have a favorite image in this series? If so, which one and why is it the image that speaks to you most?
JP: Field For Lease is an example of what I'm most trying to achieve. The scene is a dark, lush and moody landscape, rudely punctured by a garishly decorated realtor's sign resembling the types seen at used car dealerships. I imagine traveling millions of years back in time and being forced to listen to the awkward sales pitch of an enterprising caveman as he explains how he'd claimed section of the earth for his own but would now like to sell part of it to me.
F-Stop: Are you working on any other projects currently?
JP: Other buckets include Crowspotting, an ongoing project where I photograph groups of people as they gather in public spaces, utilizing a motorized wide-format film camera. I continue to support Lost and Found: The Search for Harry and Edna, a social media experiment and gallery exhibition involving nearly 1,100 enigmatic photographs that I discovered at a second-hand store.
Most important to me, though, is helping produce Filter Photo Festival in Chicago each September. The festival is an annual gathering of photographers, educators, curators, and industry experts that come together in Chicago each September to share their passion for contemporary photography.
F-Stop: What photographers or other artists inspire you?
JP: Our beloved photography is undergoing a massive transformation, and I'm moved by so much of the new work I see. Looking to the past, I remain deeply inspired by the curiosity and experimental spirit of Harry Callahan's work. I love the humor and endless surprises found in the street photography by Garry Winogrand, Lee Friedlander and Joel Meyerowitz.
---
Location: Online Type: Featured Photographer, Interview
Events by Location
Post Categories
Tweets
Tags