Book Review: Naked Reflections by Peter Suschitzky
Committing to shooting nudes as a photographer is tough. It's a road that has been traveled down many times since man laid eyes on woman. How many sculptures and paintings were dedicated to women before the camera came along? Our museums are filled with nudes throughout history. There are even nudes in the pyramids. What Peter does is breathe new life into nude photography. As a photographer and photo book reviewer I come across many books on nudes but I think this one of the truest examples I have ever seen of raw unbridled nude photography.
Maybe it's the years of experience that Peter has a cinematographer for some of the biggest as well as most beloved films of all time that gives him that intangible grasp of how powerful a nude photo can be. These photos are powerful. They are strong tributes to the women who posed for them as well as great examples of fine art photography. These pictures tell a story and that's something you don't find with a lot of nude work from many photographers. The stories they tell are vague and distant and leave it up to you to put together the pieces. The women are only a part of the composition and there is such an ethereal quality to Peter's work that the photos end up becoming timeless. Were they taking in the past? The present? Or possibly a distopian future where only a man and his camera remaining among the bodies of those who would inhabit this new Earth?
One of the best parts of this book is that not only do we get these fantastic storytelling nudes but we also have a backup of street photography that Peter has snapped over the past 40 years. They are oddly a great compliment to the nudes because once the first story is told you get kind of a cool backup almost like an anthology series or a really cool issue of Heavy Metal.
The book is very well put together. There is a very subtle artisanal quality of the layout of the pages, the paper stock, the size of the book, and how each page leads you to the next.
There is definitely a naked woman on the cover of the book. It's not crass or over sexualized. It's beautiful. I say that because I would have no hesitation leaving this book out while company comes over. It's just such a gorgeous piece of art and the photos can definitely strike up a conversation. The street photos capture such vivid life that they can also strike up as many conversations as a lone naked woman standing in a doorway. I feel the ultimate mantra of the book is that you never know where life will lead us and you never know what anyone else's story is.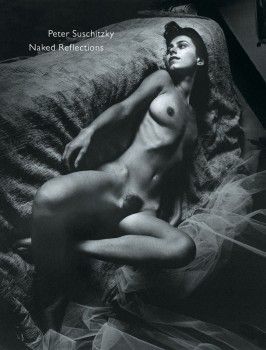 Naked Reflections
by Peter Suschitzky
Schilt Publishing
For more information and to purchase the book: www.schiltpublishing.com/publishing/authors/peter-suschitzky/
---
Location: Online Type: Book Review
Events by Location
Post Categories
Tweets
Tags