Book Review: Tattoo Super Models by Christian Saint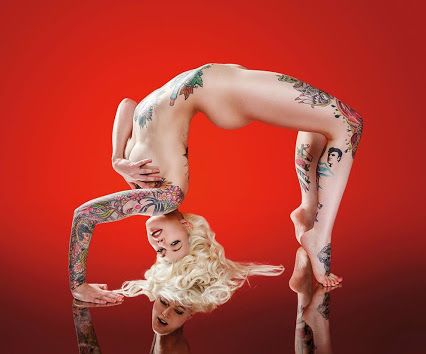 Who doesn't love women with tattoos? Up until a few years ago it was a rarity to see women covered in ink. It was considered a taboo subject even among models themselves. This book bashes those archaic notions of what a model should look like or even what a woman looks like. I'm sure there are those in different parts of the country or world that would see it different but who cares? They aren't the ones buying this book. The book Tattoo Super Models is loaded with awesome ladies that are covered in tattoos. If you like tattoos and gorgeous women then pick this book up. That's pretty much the bottom line. The photography ain't too bad either.
Christian Saint has been a photographer for many years and this book from Goliath (they make some pretty excellent photography books) showcases gorgeous photos of beautiful tattooed women. It's hard to believe that tattoo culture can still be considered a taboo subject. Women are works of art to begin with and when these beautiful women use their body as a canvas for some amazing art then that makes everything just a bit more fun and glorious.
The tattoo sub culture is huge and if you're walking around the streets of NYC or Brooklyn or Astoria you will see tons of beautiful tattooed women. When tattoos on a woman were a rarity 15 years ago it's almost at the point where it's commonplace as a showing of dedication, strength, art expression, and an awesome "why not!?" attitude. The models in this book however don't have the girl next door look or the girl that works at the bar look. They have that fashion/print model glow or aesthetic but happen to be covered in ink. The simplicity of the photos are a testament to Christian's work because he took the bare essentials of good photography and directing and let the models shine as well as their ink.
The book itself is on the smaller side and makes for a great flip through read. It's a fun hop into a world that many folks don't know about but I think maybe an essential for anyone who is a fan of photo books because it's something different. The art on display is amazing and plus who doesn't like to look at pictures of beautiful women? Christian takes much commercial sensibilities and applies them to many of the images in this book as well as jumping into a bit of modern/retro pinup style photos. Great book!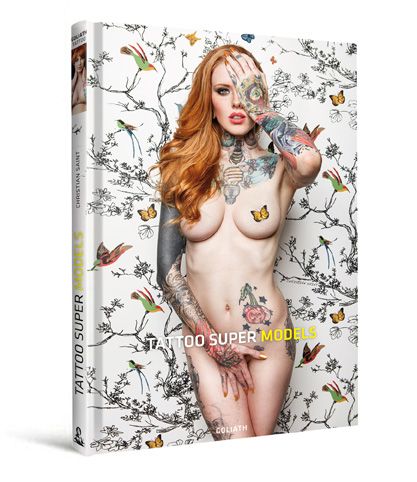 Tattoo Super Models
By Christian Saint
Goliath Books
For more information and to purchase the book: www.goliathbooks.com/detail/index/sArticle/134
---
Location: Online Type: Book Review
Events by Location
Post Categories
Tweets
Tags