Book Review: Tideland by David Batchelder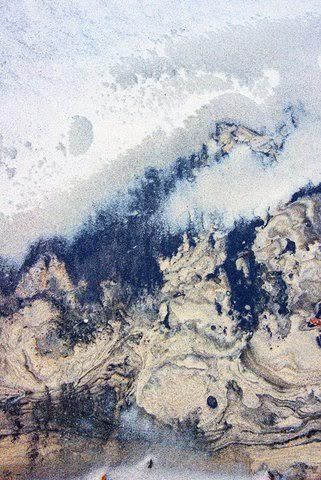 "David Batchelder made these photographs between 2010 and 2015 in the tidal zone on the beaches that fringe Isle of Palms, a small barrier island off Charleston, on the eastern coast of the United States. Unless you are an expert in geology or marine biology, you would not know this from looking at the images. Like much of our surroundings, these beaches could be many places in the world, and many more places in the mind," writes David Campany in his essay.
The images in this tome were taken by a hand-held camera that David Batchelder pointed downwards. "The camera records and makes permanent a world in flux," as David Campany states, and one might wonder what exactly the role of the photographer is? I mean, does holding a camera make you a photographer?
Yes, it does. If you are doing it regularly (and not just occasionally). As a Finnish photography student once said to me: I can bake but that doesn't make me a baker. Baking for a living is making me a baker. In other words, if what you are doing most of the time revolves around taking pictures then you are a photographer.
There are photographers who are mostly interested in the result (the accomplished picture). And, there are the ones whose focus is on the picture-taking-experience. For the latter to photograph is an exercise in meditation. What however all photographers have in common is that they often only afterwards are discovering what their camera documented.
David Batchelder has made thousands of photographs. He has recorded "appearances that never repeat. With every tide, unique shapes and configurations that no human could create are written and erased. It has been going on since before we were here and it will continue long after we have gone," pens David Campany.
There are drones that take fabulous photos, there's the Hubble Space Telescope that has been sending back gorgeous pictures from the cosmos. So why does it take a photographer …?
Because to photograph is an experience, and sometimes a learning experience. It is not only taking the photograph that matters, looking at, and examining, the photographs taken is equally relevant. As David Batchelder elaborates: "My ability to see has grown because I have been able to make and see many thousands of photographs, nearly two thousand proof prints and 1200 finished prints. My vision has grown as a result. I see so many interesting things in the sand now that were there before, but beyond my vision."

Tideland
By David Batchelder
With an Essay by David Campany
Schilt Publishing, Amsterdam 2015
For more information and to purchase the book:  www.schiltpublishing.com
---
Location: Online Type: Book Review
Events by Location
Post Categories
Tweets
Tags