Book Review :  Metro: Scenes from an Urban Stage by Stan Raucher
Public transportation can seem a bit like a traveling theater. Periodically the scene changes from one part of the city or country to another, or from day to night as the train cars travel from above-ground to below-ground, and the cast of characters can be varied throughout the play. Doors open and shut like the curtains on stage with each new scene. Tranquility can give rise to energetic vibes in just a few stops when new members of the cast come on board; and while viewing Stan Raucher's images, one is immediately drawn into these vignettes of life.
In his project statement for Metro, Stan Raucher speaks to the metaphor of theater. "Whenever I step into a subway station it feels as though I have entered a magnificent theater with a diverse cast of characters performing in an unscripted play on an ever-changing stage. My series Metro documents the behavior of ordinary people in mass transit systems in various countries and cultures. As individuals interact with one another in these tightly-packed public spaces, occasionally extraordinary situations that are unexpected, mysterious, humorous or poignant unfold. A strange or wonderful juxtaposition, a spontaneous gesture, a concealed mood or a hidden emotion may materialize and then vanish in a split-second. Such ephemeral events are often overlooked or quickly forgotten. My intent is to capture these fleeting moments as evocative, richly-layered images that allow each viewer to generate a unique personal narrative, and that these candid photographs will prompt us to pause and reflect on our modern lives."
Photographers are generally voyeurs, observers, people-watchers. Metro: Scenes from an Urban Stage allows the reader to catch glimpses of these improvised plays as Raucher saw them. He took the photographs in Metro between 2007 and 2014 during numerous trips he made to fifteen cities on four continents. He captured scenes in the metro systems of New York City, Mexico City, San Francisco, Paris, Budapest, Naples, London, Warsaw, Rome, Prague, Vienna, São Paulo, Lima, Delhi, and Shanghai. Raucher's images are like the work of other masters like Walker Evans, or Robert Frank, who shot clandestine images of people and public places. "Using available light and a bit of serendipity," Raucher says, " I endeavor to create compelling photographs that provide a glimpse into aspects of the human condition."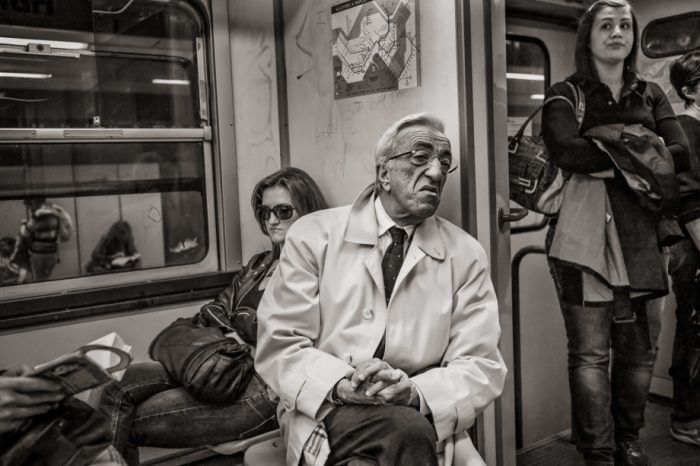 The hardbound book contains 50 duotone images on matte paper stock which beautifully gives depth to the scenes. The intimate views of people in their own worlds lead us to guess what they are thinking, where they are going, or deduce what their day has been like. Raucher's masterful images are rich with details and emotions, which allows the viewer to decipher body language, soak in the details of these fleeting moments in their travels, and mentally craft a script to narrate their lives based on our own sense of the world around us and the people we know. As Marlaine Glicksman sums up the book in her essay, "Raucher's images explore and magnify a self-contained world. Yet rather than contain ours, they enable us to see farther, both into the metro and into ourselves."
---
Stan Raucher is an award-winning photographer who has been documenting aspects of the human condition around the world for over a decade. His photographs have been featured in 20 solo exhibitions and included in over 60 juried group shows. His work has been published in Slate, LensWork, Black & White Magazine, The Daily Mail, The Independent, Lenscratch, F-Stop Magazine, Shots and The Havana Times. He was a 2012, 2013 and 2015 Critical Mass finalist, a 2012 CDS/Honickman First Book Prize in Photography finalist, a 2015 PX3 Bronze Award winner, and he received a 2015 Artists Trust GAP Award. His prints are held by museums, institutions, and private collectors.
Ed Kashi is an award-winning photojournalist, filmmaker, educator, and member of VII Photo Agency. He has authored numerous books detailing the social and political issues that define our times, and he is known for his complex imagery and its compelling rendering of the human condition.
Marlaine Glicksman is a visual storyteller: an award-winning filmmaker, screenwriter, photographer, and writer who creates dramatic character-driven stories set in multicultural contexts both narrative and documentary and in moving images and stills.
---
Metro: Scenes from an Urban Stage
Foreword by Ed Kashi and Essay by Marlaine Glicksman
ISBN: 9781942084150
8″ x 10″ inches
88 Pages; 50 Duotone
 To order Metro, visit Daylight Books site. For more information about Stan Raucher and his work, visit his website here.
---
Location: Online Type: Book Review
Events by Location
Post Categories
Tweets
Tags