Book Review: The Outsider by Elizabeth Heyert
I love the concept of this book and do think it an excellent idea to photograph people who take photographs of other people – and felt instant sympathy when glancing through the pages of this tome. Very probably because I have taken such pictures myself. And also, because these photographs show the ones portrayed as actors on a stage.
In 2014, Elizabeth Heyert, who lives and works in New York, started to photograph the Chinese taking photographs of each other. "They shoot incessantly, often with family members looking on and directing, and with an intimacy with their environment that borders on stagecraft."
She traveled to Beijing, Shanghai, Suzhou and Hangzhou, "often wading through enormous crowds to uncover private moments between people who were strangers to me." Unable to speak Chinese, she remains an outsider, a spectator. In her words: "I call the project The Outsider because as a Westerner in the East, and a stranger in a foreign culture searching for authenticity, I allowed myself to be a spectator of the photographer/subject relationship."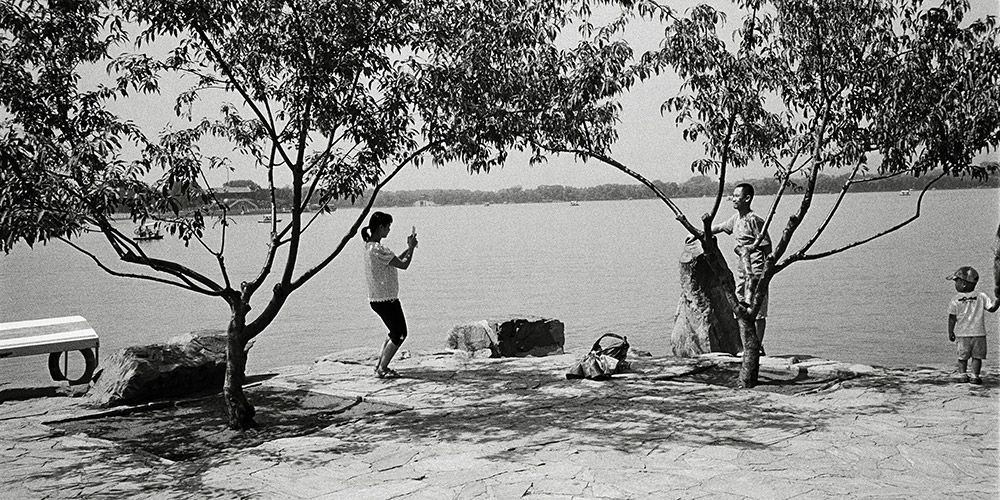 Part of being attracted to this book results from the fact that I myself have once been (in 2002, as a teacher of English) a stranger in this foreign Chinese culture, albeit not searching for authenticity (also: the idea of searching for authenticity via photographs has so far never occurred to me) but missing the possibility to communicate with words. Being unable to verbally communicate while being amongst the Chinese often felt like visiting a zoo – which, needless to say, can be fascinating, on both sides. I particularly remember Chinese children who stared and cheered at me up in the mountains of Fujian Province – as strange and fascinating as they seemed to me, as strange and fascinating I must have seemed to them.
Elizabeth Heyert is not only aware of the problem that the inability to verbally communicate poses but has given it quite some thought. "Did the young Chinese woman in Chanel sunglasses and designer clothes pose on the wall depicting the Workers Revolution because she admired the background, or was it an ironical political statement? Do the bride and groom, hugging in front of the surreal cityscape of Shanghai, cling to each other with intense love or desperate anxiety? Are the crowds of Chinese with cameras preserving memories of happy moments, or inventing happy moments to memorialize in photographs?" She doesn't know the answer, she writes. Whether speaking Mandarin would have provided her with convincing answers, I'm not sure either.
As interesting such information would have certainly been, for Elizabeth Heyert's project words aren't really needed. The pictures, for once, speak to quite some degree for themselves and are a joy to look at. To me, they are perfect illustrations of our innumerable attempts to give meaning to life by trying to make moments significant. And, as it says in Shakespeare's As You Like It: "All the world's a stage, And all the men and women merely players …".
There is a hardly a photo in this book that does not make me smile. It is a wonderful human comedy that Elizabeth Heyert has captured on film. For her project she used a vintage Leica and Tri-X "in a country where film is no longer even sold."
On the last pages of the book, there's also a short story by Madeleine Thien, the youngest daughter of Malaysian-Chinese immigrants to Canada – an inspiring piece about her photographer father and the questions that arise when one asks oneself whether photographs can depict reality.

The Outsider
by Elizabeth Heyert
Damiani, Bologna 2017
www.damianieditore.com
---
Location: Online Type: Book Review
Events by Location
Post Categories
Tweets
Tags