Book Review: The World Ain't Enough… by Oliver Raschka
Oliver Raschka, trained in economics and psychology, lives in Stuttgart, Germany. As a photographer he is essentially self-taught, in addition, he attended numerous workshops with renowned photographers.
The world ain't enough… documents the first ten years of his two sons. The black and white photographs show them at home and at play, at sporting events and when shopping. One senses not only the boys' excitement, the father's joy is also palpable.
Some pics show just one of the boys, others the two boys together. In both cases, what dominates these photographs is interaction, be it that the two interact with each other, be it that one of the boys is playing with his mobile or observing a car on the highway. Moreover, the kids also interact with the father (or with the camera?).
Says the father: "My sons are early birds. Their nights end between six and seven o'clock in the morning. After getting up, they are in full swing and with their vivid imagination they take in the world within seconds. The world ain't enough …! The world ain't enough!"
The cleverly composed photos seem to have been taken with an idea or concept in mind of how to juxtapose the brothers or to contrast one of the two with his environment. Not all of them but quite some. Oliver Raschka however informs me that he tried to capture moments of life as it unfolded. "I don't ask my sons to pose for me. It's all about pictures from real life …".
Taking photographs of his two sons, aged eight and eleven, also brought back memories of his own youth, and especially a trip to Spain with his parents and his "carefree desire to discover the world." Spending time with the pictures in this tome made me also think of my own youthful adventures. And, they made this time come alive again.
What intrigues me most about The world ain't enough … is what I perceive to be the celebration of the moment. Needless to say, nobody is more attentive to, and caught up in, the moment than youngsters. And this, I believe, can be felt when looking at the pics of the two boys who are – on purpose, I suppose – not identified by name. As far as I'm concerned, this makes perfect sense for the two can easily stand for all boys of that age. Well, having said that, their father might probably beg to differ …
The publisher also provided a text (not to be found in the book) by Cologne-based photographer and photo lecturer Wolfgang Zurborn. It starts like this: "The children's fantasies go beyond the scope of time and place, and do not submit to rational meaning patterns. By contrast, the logical structuring of the experiential world helps adults to cope with the daily demands of their professional and private lives. Existential fears are kept in check by constantly looking for ways to protect ourselves against all possible catastrophes. When a storm comes up, we immediately think of lightning rods and home insurance, so the fear is contained. The childlike perception, on the other hand, does not know such a cushioning of the experience …". Well, if Mr Zurborn were right, I would still qualify as a child (and I recently turned 67) for I never ever thought "of lightning rods and home insurance" when a storm came up.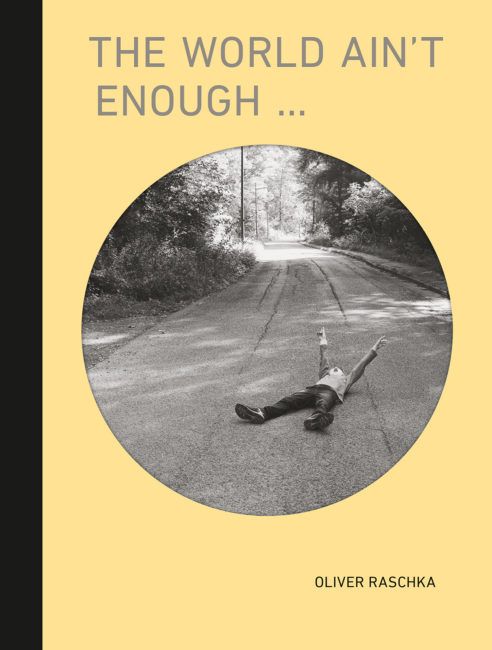 The World Ain't Enough…
by Oliver Raschka
German, English
BUMMBUMM BOOKS, Cologne 2020
https://bummbummbooks.de/all-books/the-world-aint-enough.html
---
Location: Online Type: Black and White, Book Review, Childhood
Events by Location
Post Categories
Tags