Book Review: Passing Place by Sandy Carson
Passing Place is both a memoir and a portrait of a person, place, and time in Sandy Carson's life. Themes of memory and loss also play a part in the story. Sandy moved from Scotland to America after pursuing and achieving a goal of being a pro BMX rider. This career gave rise to working as a photographer for magazines and freelance assignments. Photos taken on his annual trips home to visit his mother and family in Scotland began to take on more meaning during a decline in his mother's health, and creating work was also a way to spend precious time with her before she passed away in 2016.
The title is inspired by one-lane rural roads with wide spots that are common in Scotland, allowing vehicles to pass each other and continue on their journey. The underlying multiple interpretations of 'Passing Place' might not be the first thing to come to viewers of Sandy Carson's latest photo book. On one hand, the term could also be used as a metaphor for the point in time when someone dies. One could also consider the duality of different synonyms of each word: movement and stillness.
In talking with Sandy about the project and the book, we discussed a number of aspects which are strengths of the esthetic and tone of the project. The ship icon/logo which appears on the cover references a paper envelope used to hold school portraits when he was growing up. "The kind in the 70s when you brought home school photos," Sandy says. "It set the tone for the project, like the idea of going on a voyage, and it also reminds me of that Old Spice logo, and tied that with my dad and my grandpa, and I liked those connections." Keepsakes and treasured family photos inherited from his mother and family are included in the book and serve as poignant remembrances and draw strong connections to both him and his family's past.
Carson's book intentionally evokes a feeling of a family photo or scrap album by Sandy uniting his photographs with the ephemera and family photos left by his mother. The material used for the cover, the gold page edges, also recall the look and feel of an old family album. The book is a delight to take in, and it brought up a number of themes for me: family, connections, catharsis, and the separation of (or dissolution of) public persona display versus private. Family photo albums are most often assembled mainly for family and friends to view, so when others view them it invites people outside that circle of immediate family into a private world.
Passing Place draws from some collected ephemera of Sandy's past, as well as his mother's life, glimpses into her daily life and routine – artfully blending images with a documentary esthetic along side images which use witty visual interplay seen in Sandy's other projects and work. Reproductions of the prayer books his mother held and likely paged through for countless hours appear in the project. The observations of the place he and his mother called home are very specific to a time and a place, but they are not unique to Scotland; they are also universal. I see the story of a man who has parents who laughed and danced and got married and played bingo. Sandy observed and documented the things that make up the day-to-day existence of where he called home.
The inserted/bound mini pages in the book serve as visual signposts along the way, provide the chance to include more slices of ephemera, and uniquely break the book into separate chapters/themes. There are also some very touching inclusions of visual touchstones: a vellum page printed with a wallpaper pattern from his mother's home, which echoes her wedding veil in one family photo, as well as another image of swirls on a surface that looks like a soapy window. We see a photo of a walker that's been parked right next to a globe mounted in a small stand, with potential provisions of liquor bottles stored on the bottom shelf. This composition smartly explores the concept of a journey or a voyage through life, explores a sense of place, and also finds the humor in such a scenario.
We discussed aspects of being able to go through one's own archive of images, and to draw from that collection. Sandy reminisced, "Shooting all the pictures that I do, and holding on to things, and thinking about where is this going to go? …having access to all the photos and archives from my family for the book made me realize my duty… what did they (my family) think was going to happen to all these photos, end up in the trash eventually? You want to hope that things go somewhere and live on…it's my duty to keep archives alive." Sandy continues, "But sometimes the photos are just for you…you just want to have them to say you have them for memories. There are definitely ones I took out of this book that's just going to be for me. There is stuff you want to put out there, and there's ones you want to keep private."
In this way, the book translates into a precious remembrance and a way to honor his mother. This project is a wonderful, beautiful exploration of family and Sandy's past. We've been invited to view the private parts of his life and he bridges the gap in a touching and very relatable way.
---
---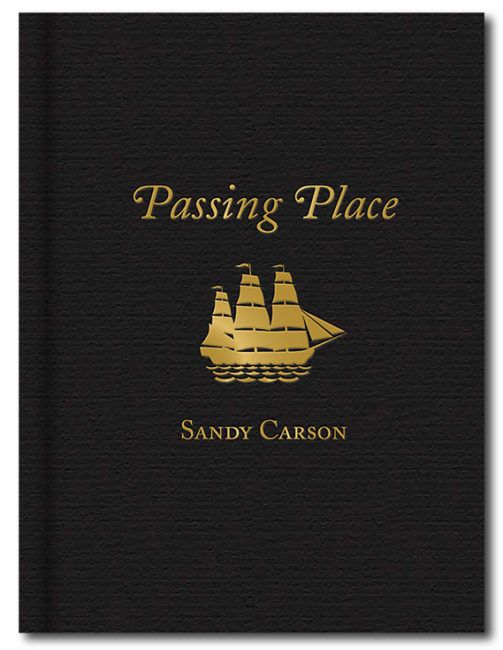 Passing Place by Sandy Carson
Introduction by Allan McNaughton
Essays by Daniel Kalder and Stephen McLaren
Hardcover, 9 x 6.5 inches, 108 pages
Published by Yoffy Press
Sandy Carson is a documentary and commercial art photographer, film maker, musician and cyclist who is based in Austin, Texas. He traveled the world for 20 years as a professional BMX rider, where he also honed his skills a photographer. Carson's editorial work is published widely including The New York Times, The British Journal of Photography, Aperture, Bicycling, and The Guardian. His commercial clients include Kodak, Virgin, Nike, Rapha, LEVI'S, Cannondale, Red Bull, ESPN, Sailor Jerry and Atlantic Records. Carson's personal work is exhibited widely, both nationally and internationally. To learn more about him and his work, please see his website www.sandycarson.com/
Yoffy Press is an independent publisher dedicated to pushing the boundaries of phonebook publishing. Working in true partnership with artists, we look beyond the book as a container of images, integrating physical and conceptual design to create distinct art objects. Visit Yoffy Press at www.yoffypress.com/
---
Location: Online Type: Book Review
Events by Location
Post Categories
Tags