Book Review: Enter The Forest By Alexandre Miguel Maia
I live in a part of the world, the Po Valley, where nature has given way to the intensive cultivation industry, and where the greenery is that of exploited fields. But not that of the treetops. What was once a swamp covered with dense vegetation has turned into a plain where trees are so rare that they increasingly resemble totem poles. Memorial monuments. As a warning.
Trees have inhabited this planet for millions of years, in a certain sense they take care of it, they guarantee its balance. They guarantee us a balance. The same balance that Alexandre Miguel Maia was looking for, due to a troubled period in his life, when he decided to enter a forest and, unconsciously, create the premises for what would later become a real journey.
"The idea to undertake that journey was triggered by many factors but driven mainly after discovering what the forest had to offer and how challenging it was for me to capture it I the way I wanted to, even when the forest is known for its serenity." [Alexandre Miguel Maia]
The author embarked on a journey which lasted a total of 6 years, which led him to cross the forests of the north, first, and then those of southern Germany. Alexandre studied the geographical maps to understand which areas were less contaminated by human presence, more intact, in search of the forest in its deepest sense of serenity. He visited, contemplated and immortalized them in various conditions of light and climate. The result was Enter the Forest, a project capable of supporting the author's slow and aesthetic approach to photography and, in the meantime, honoring the forest and its positive effects.
The choice of analogue photography, medium format and a tripod, supports the desire to respect the times of nature, even of human nature, and to get to grasp the scene after reflection. Prior to achieving some kind of peace.
"Photography for me is always something I do to relax and cool down, like after a stressful workday. And I think over the time that evolved into my photography language. A calmness that can hopefully be seen throughout my photos, independently of the subjects I have taken."[Alexandre Miguel Maia]
Enter the Forest is a book that, like the project itself, needs calm. Alexandre Miguel Maia chose to remain in the background and let his photography do the talking, giving only a few details capable of sketching a path without defining it too much. Small sentences, leaves that brush against you while crossing a forest.
The forest is one of the leitmotifs of German photography, but I think this book deals with it in an unusual way. The slow immersion in the project leads us to reflect on nature and, today extremely topical, on the environmental issue. But also on how, in the face of technological development and the acceleration of processes, more and more individuals are pushing themselves to seek slowness and environments capable of restoring balance. A rhythm.
"The moment, however, that will remain forever in my memory with all its magic, was the surprising discovery of a white deer in the middle of a large herd. I had the privilege of observing this beautiful animal—unnoticed— for a while before it eventually disappeared back into the forest." [Alexandre Miguel Maia]
The only apparently abandoned appearance of a forest becomes synonymous with regeneration; of peace with oneself and with one's own biological cycle. And venturing into the context of intricate vegetation can always reserve us the surprise of that white deer that, after all, we are all looking for. Because, in my opinion, it's easier to find yourself in a forest than to get lost.
Alexandre Miguel Maia is a German photographer of Portuguese origins. He is a creative whose work ranges from 3d art to gaming. In the early 2000s he realized that analog photography is a good way to express your personality. He rarely takes more than 3 photos a day. Enter the Forest is the first monograph by him. He has several personal exhibitions to his credit; on the occasion of the next one, which will open in Hamburg on 27 September, "Enter the Forest" will be presented and exhibited.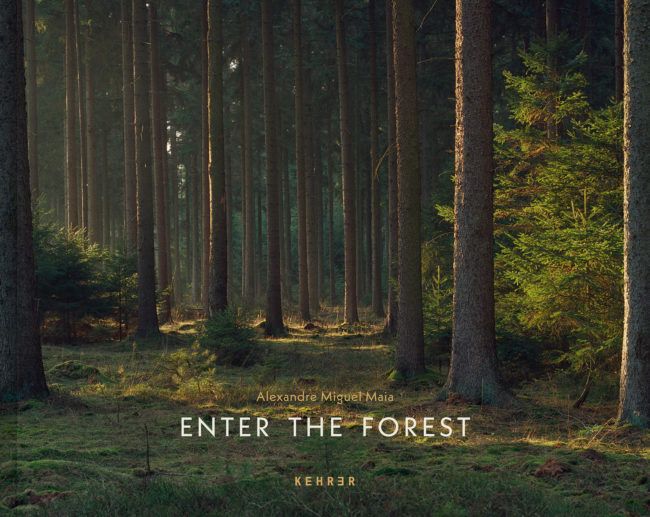 Enter the Forest
by Alexandre Miguel Maia
Text by Alexandre Miguel Maia
Designed by Alexandre Miguel Maia
Cloth hardcover with embossing and dust jacket
30 x 24 cm
128 pages
54 color ills.
English, German
ISBN 978-3-96900-103-5
Euro 45,00
Published by Kehrer Verlag: https://www.kehrerverlag.com/en/alexandre-miguel-maia-enter-the-forest-978-3-96900-103-5
Alexandre Miguel Maia webpage: www.retrolux.de
Enter the Forest next exhibition: https://www.hamburg-travel.com/see-explore/events/events-calendar/enter-the-forest-forest-photo-exhibition/#c20748264
---
Location: Online Type: Book Review, Landscapes, Nature
Events by Location
Post Categories
Tags