Camera Obscura 2017 – Step into a Camera! @ Photographic Centre Peri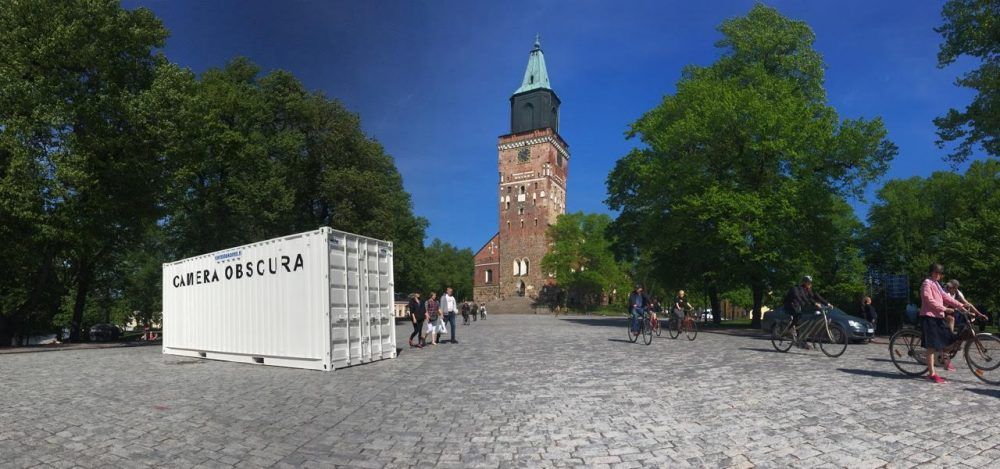 Camera Obscura 2017 – Step into a Camera!
August, 2017
"Honouring the 100th anniversary of Finnish independence and the 175th anniversary of the first Finnish photograph, Photographic Centre Peri offers to the public an opportunity to explore the basic principle of an image forming. Camera Obscura is latin and means darkened room. Light travels through a small hole and projects an upside down image of the outside view to the opposite wall. Camera Obscura 2017 – project is open to all. A unique space for basic photographic principle is brought to historic milieu of Turku Cathedral Square inside a container. The project is a part of the Programme on Finland 100 years. The event is free of charge….
In August the container returns to Turku Cathedral Square. It is just a stone's throw away from the place where first Finnish photograph was taken. In 1842 doctor Henrik Cajander photographed a view from Uudenmaankatu. This is the oldest existing photograph taken in Finland. Camera obscura combines a cultural landscape of Turku Cathedral with people walking through a central location, making the experience of camera obscura livelier and vivid. There are guided tours to enhance the visual experience of Camera Obscura. Guided tours explain the phenomena and combine it to photography in general and local history."
Valokuvakeskus Peri
Itäinen Rantakatu 38
20810 Turku
For more info:www.peri.fi
---
Also published on Medium.
---