Book Review: This Empty World by Nick Brandt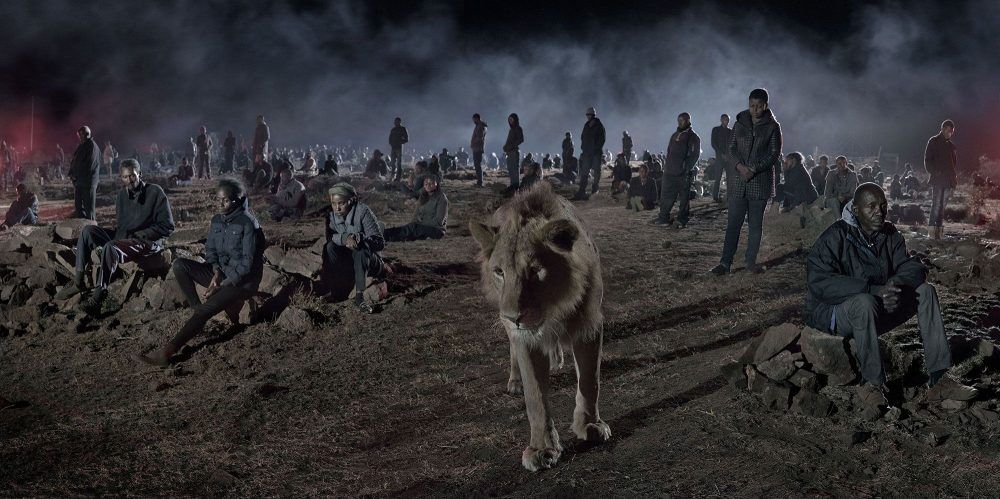 What you get to see in this tome are colour photographs of animals and people in situations that seem somewhat unreal and, I learn from reading the accompanying texts, are staged. Photographer Nick Brandt writes that "with absolute inevitability, nearly everyone is assuming that I photographed the animals and then dropped them, via Photoshop, into photographs that I had taken of existing locations."
He is right for we all confront the world with expectations, and we all look at photo books with preconceived ideas. And, Nick Brandt's photographs look exactly what we imagine photoshopped images to look like. Except that they are not. "In reality, every element – from the bridge construction to the petrol station and even the forest – was built for the photos."
Knowing this alters one's view of these pics. I for one look now at what is before my eyes with a changed mind for staged reality, to me, is not reality. Nick Brandt created photographs that are meant to make me aware of something that does not exist in the way it is documented by these photographs. He shows me a world that I need to imagine.
Nick Brandt is outraged by the destruction of the natural world and our fellow creatures. "It took billions of years for the earth to become such a wondrously diverse place, but in just a few short years – an infinitesimally microscopic moment in time – it has been annihilated."
The increasing disappearance of the natural world happens all over the globe. So why did he chose to photograph in East Africa? " … because it is still the great mythical animals of the African plains that seize my imagination – as they have always done."
This is a pretty extraordinary work not just because of the surreal pictures (the lighting contributes significantly to make me believe I'm looking at a film set) but also for how it came about. Thankfully, Nick Brandt provides the necessary background information that enables the reader of to understand the process that led to these photographs.
"The sets, and their accompanying lighting were designed before any animals were photographed in these locations." He knew that to just build a location and wait for the wild animals to show up very likely wouldn't work. So he built ten sets simultaneously in different locations. "Months of technical research, preparation and testing ensued, the enormity of the undertaking becoming more apparent by the day." And, after a very long wait, the animals started to appear …
It needs to be pointed out that Nick Brandt elaborates in detail about the coming into being of this tome. In my experience this is pretty rare, and I highly appreciate it for without these infos I would have hardly understood what my eyes were showing me.
Documenting the process of picture taking is the kind of photography I warm to most. And, "This Empty World" is just that – and more: It is also a truly smart way of raising awareness for it forces us to rethink our expectations, our take on photography, and, ultimately, the destruction of our planet.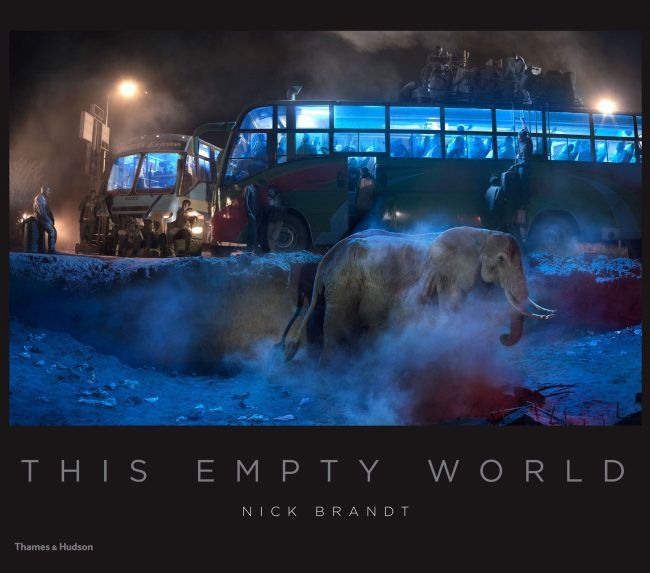 This Empty World
by Nick Brandt
Thames & Hudson 2019
www.thamesandhudson.com
---
Nick Brandt (b. 1964, London) studied painting and film at St. Martin's School of Art, London. He moved to California in 1992. In 1995, Brandt became aware of the terrible devastation of the landscape and fauna of East Africa, leading him to make his seminal trilogy On This Earth (2000-04), A Shadow Falls (2005-08), Across the Ravaged Land (2010-12). In 2010, Brandt co-founded the Big Life Foundation to contribute to the conservation of the Amboseli-Tsavo-Kilimanjaro ecosystem. The escalating destruction caused by overpopulation, urban expansion, and intensified poaching in East Africa inspired the artist to create the pivotal series Inherit the Dust (2016), which constituted the artist's most recent exhibition at Edwynn Houk Gallery prior to This Empty World.
Brandt has exhibited worldwide, including solo exhibitions at Fotografiska, Stockholm; Multimedia Art Museum, Moscow; Preus National Museum of Photography, Oslo; and the National Museum of Finland, Helsinki. The artist lives and works in California. To see more of his work visit: www.nickbrandt.com
---
---
Location: Online Type: Book Review
Events by Location
Post Categories
Tweets
Tags