Book Review: TRACE – Kota Ezawa, Tabitha Soren, Penelope Umbrico
TRACE is the first of a triptych series published by Yoffy Press. Since the Spanish word for 'Three' is Tres, I enjoyed the ironic play on words and double meaning for this publication of three separate books by artists Kota Ezawa, Tabitha Soren and Penelope Umbrico. Each book could stand on its own for the artist's chosen inspiration, or the reader/viewer can make connections between the three collaborative parts of the series and perhaps see parallels in the overarching theme. The TRACE artists each experiment with appropriation in their practices to explore how we all interact with images in the contemporary world.
While I immediately see the connection between these three artists and the photographic based works created for the series, I am careful here to refer to the contributors as the artists; rather than as photographers. This is a slight departure from most of the photo books I review. The ever-present argument of whether a person calls themselves an artist or a photographer will not be resolved in this review, I think I will steer clear of the trap and simply follow the lead of the publisher's same wording choice for the contributors. Ezawa, Soren and Umbrico delve into lens based media, appropriated images from contemporary culture, and the technological devices we use to experience photography.
The strong work of each artist has clear ties to the photographic image, both historic and contemporary.  Kota Ezawa works with images which are almost immediately recognizable – even after he has pared the image down to basic elements of shape, tone and line. We see each layer of the construct revealed until the final image is formed. The process speaks to the power of the photographic image in our collective memory and culture. Ezawa's twenty page build-up to the final image of John F. Kennedy Jr. saluting his father's casket compelled me go back and forth several times to see the layers build one upon the other, and then deconstruct the image in reverse. The series made be consider all the elements that go into the construction of powerful images. All those elements often go unnoticed to an untrained eye when something works well.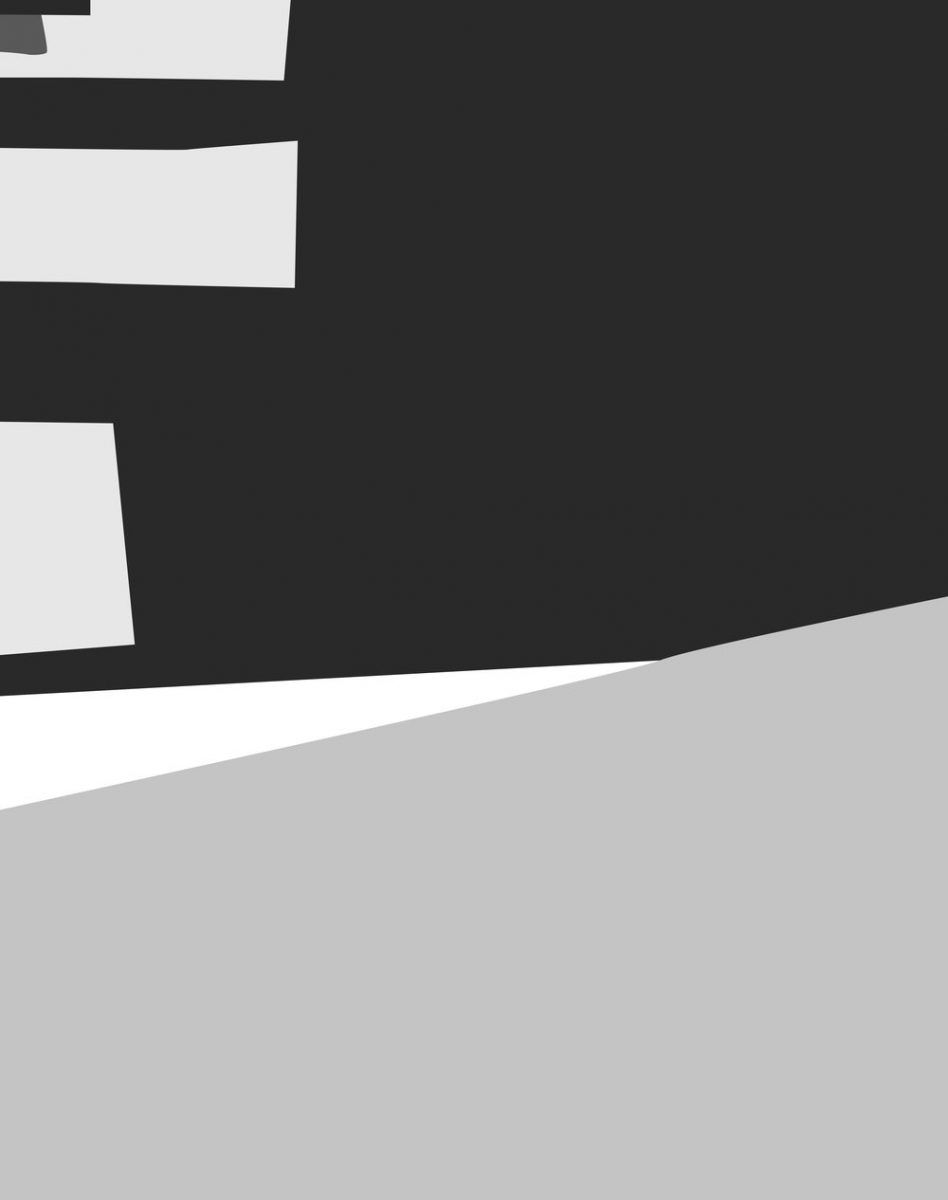 Tabitha Soren also addresses the visual aspect of our collective exposure to imagery, and the role technology plays in how we experience photography in an ever-increasingly digital viewing space. The monitors and screens we use on a daily basis to experience images and the world around us are an invisible layer we look past or look through. But how often do we consider the surface which transmits the images? Soren's images that include the visible smears and fingerprints over captured images prompts us to consider the touching aspect of the screens on smart phones and hand held devices we use to see the world and connect with others. The potential tension and anxiety of technology that can overwhelm personal relationships is one aspect Soren explores in her series on the theme.
In a related train of thought, Penelope Umbrico's work in TRACE addresses the nearly invisible aspects of monitors and screens. The ubiquitous nature of them and the blind spot we have for them as well. But she has chosen to focus on the flaws and defects within which can be seen. Her images of monitors or computer screens for sale online are cropped to create abstracted fields of color. She has made marks to indicate where the physical flaws and defects are found in each example; there are arrows, circles and lines to show the viewer tiny artifacts within something we are used to looking past or through. She draws our attention to each tiny, unique aspect which exposes the underlying material for us to consider the marks of the maker; the trace of the flaw.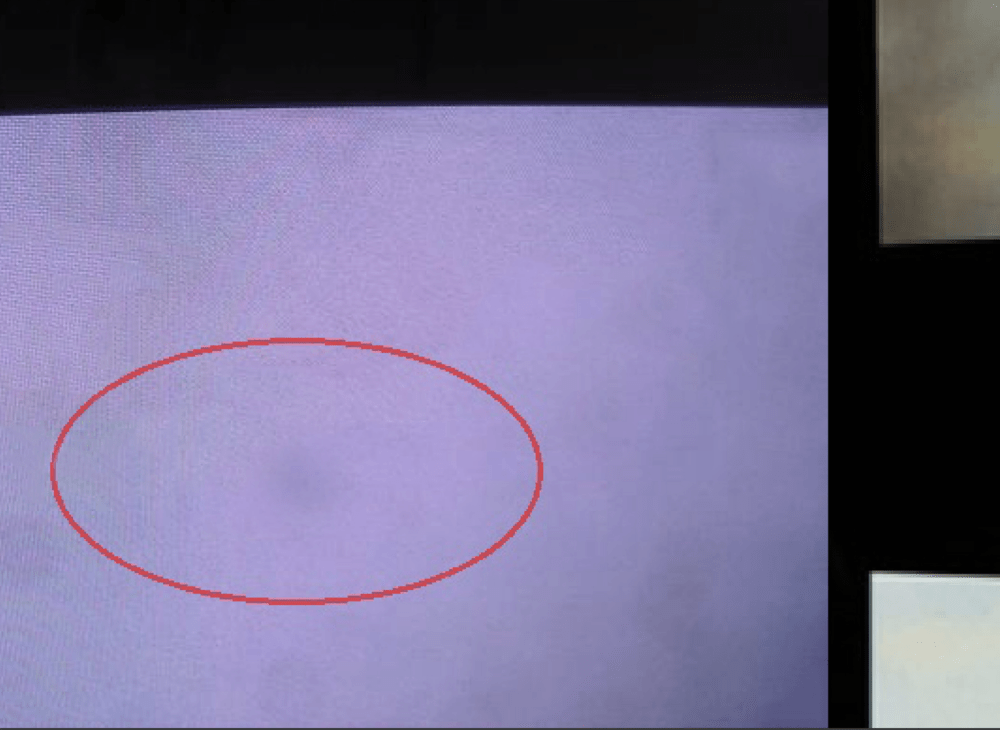 ---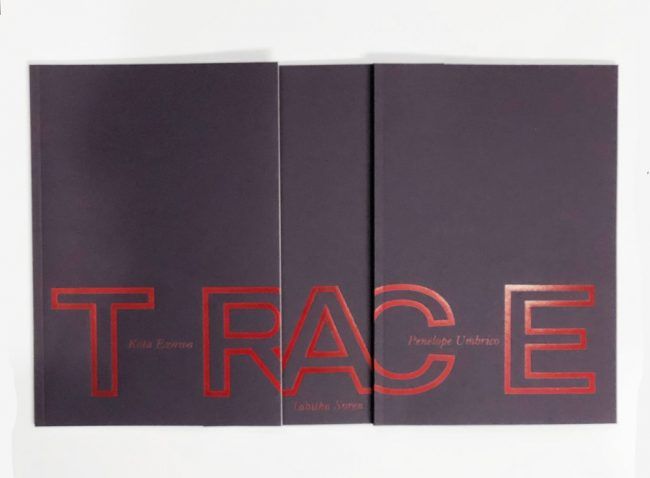 TRACE, Artists: Kota Ezawa, Tabitha Soren, Penelope Umbrico
Softcover, set of three books
8.75 x 6 inches
each book is 40 pages
Edition of 250
About Kota Ezawa
Kota Ezawa often reworks images from popular culture, film and art history, stripping them down to their core elements. His simplified versions remain easily recognizable and potent, the result of a process that illuminates the hold certain images have on their viewers. Working in a range of mediums such as digital animation, slide projections, light boxes, paper cut-outs, collage, print, and wood sculptures, Ezawa maintains a keen awareness of how images shape our experience and memory of events. Kota Ezawa lives and works in Oakland, California.
About Tabitha Soren
Soren left a career in television in 1999 for a fellowship at Stanford, which led to a second career as a photo-based artist. Her images function like invitations to the viewers' emotional memory. Surface Tension delves into the human psyche by foregrounding the anxiety we navigate in the struggle to adapt to technological domination. She lives and works in Berkeley, California.
About Penelope Umbrico
Penelope Umbrico offers a radical reinterpretation of everyday consumer and vernacular images. Umbrico works "within the virtual world of consumer marketing and social media, traveling through the relentless flow of seductive images, objects, and information that surrounds us, searching for decisive moments—but in these worlds, decisive moments are cultural absurdities."
She finds these moments in the pages of consumer product mail-order catalogs, travel and leisure brochures; and websites like Craigslist, EBay, and Flickr. Identifying image typologies—candy-colored horizons and sunsets, books used as props—brings the farcical, surreal nature of consumerism to new light. She lives in New York City.
---
Yoffy Press was founded by Jennifer Yoffy. She founded Crusade for Art in 2013, a non-profit organization whose mission was to engage new audiences with art. Jennifer owned a fine art photography gallery in Atlanta (Jennifer Schwartz Gallery) for five years, and she co-founded Flash Powder Projects, a photographer-focused collaborative venture and publishing company. In the spring of 2013, she traveled around the country in a 1977 VW bus, engaging audiences with photography.
To order a copy of TRACE, or see more titles from Yoffy Press, please visit their website: http://www.yoffypress.com/
---
Location: Online Type: Book Review
One response to "Book Review: TRACE – Kota Ezawa, Tabitha Soren, Penelope Umbrico"
Events by Location
Post Categories
Tags