Book Review: Vokseværk By Mads Joakim Rimer Rasmussen
A notebook is a set of sheets of paper to write on. Everyone has had one. First to scribble, then to write. Lessons, assignments, notes. Then adolescence and moods. The inner pains that grow with growth. The notebook that becomes a diary.
Voksevaerk, literally "growing pains", is the new work by Mads Joakim Rimer Rasmussen. It has the look and size of a notebook. A notebook of growing pains. The notebook that becomes a diary. The project was shot in an efterskole, the Fjordvang Efterskole, in the Danish region of North Jutland.
Efterskole is a private school that exists only in Denmark. Students in grades 8 and 9 (compulsory education in Denmark consists of a single school ranging from grades 1 to 10, ages 6 to 16) can decide to spend a year there. It is a boarding school where children live, study, work and spend most of their free time throughout the school year. Life in the efterskole is regulated by a very precise but not monotonous routine. Lessons are accompanied by recreational activities of various kinds such as tournaments, games, trips and theme nights. Alongside the spaces dedicated to teaching, there are areas of the school used for free time, relaxation, reading, socializing; also a gymnasium and a cinema. Pupils are also expected to help the kitchen and cleaning staff, tasks they do, of course, in shifts.
The birth of the first efterskole dates back to 1870. Its founders, N. F. S. Grundtvig and Christen Mikkelsen Kold, thought it was essential, to ensure the maintenance and evolution of a democratic system, to implement an educational system capable of creating the conditions that would make citizens capable of exercising democracy.
Voksvaerk is a book about growth; it's a growing book.
It opens onto the void of a school gymnasium used as a theatre. The detail of a shred of skin with hair appearing for the first time; the eyes of a boy with hickeys on his neck; the emotion of a farewell; the abandonment of the after gym; the moment of shopping lived in complete free will. The gaze of those who already have clear ideas about their future and that of those who will get lost along the way.
Playful moments to busy moments. Landscapes to closeups. Portrait to group photos. It fills up, progressively. In a storytelling, in my opinion, impeccable that denotes knowledge of photojournalism but also the ability to tackle long-term projects.
The immersion of the photographer, of the narrator, within the context is complete. And this, with the ability to immediately gain the students' trust, was also possible thanks to the fact that Mads Joakim Rimer Rasmussen, with whom I had the pleasure to have a small conversation, also attended an efterskole.
"I think the institution itself is very positive. It helps many young people to form their identity and also learn about other narratives than their own. It is a shame that it is rather expensive, so it isn't a given that every kid can have the opportunity to experience this. It's interesting that it used to be a place where people would send unbehaved children to get sorted out, and today it is a luxury that many wish to be a part of. I think that also shows a growing curiosity from the youth, as they are now seeking outside of their own reality in order to learn about others."
[M.J.R.R.]
Voksvaerk is a book that I liked and found very "fresh". A book that develops quickly and destabilizes and, with the same speed with which it arrived, goes away. Like a summer storm. Like youth. And in all this the photographer manages to capture, in a year-long work, 59 shots capable of telling a school system, an experience, the "growing pains".
It is a notebook which, recalling adolescence, conveys a little melancholy but which also makes us reflect, indirectly, on the importance of the educational system in the composition and maintenance of a democratic system and state. And, after all, it also makes us reflect on our past, on our youth, on the sense of time.
Mads Joakim Rimer Rasmussen (b. 1994) is a Danish visual journalist working on long-term projects and freelance commissions, based in Copenhagen, Denmark. He has a bachelor's' degree in photojournalism from the Danish School of Media and Journalism (DK) and studied Multimedia Journalism at the Lebanese American University (LBN).
Parts of his recent work "Fjordvang Efterskole" was awarded awarded 2nd prize in Reportage of the Year in Denmark and 1st prize in the documentary category at College Photographer of the Year.
Vokseværk
By Mads Joakim Rimer Rasmussen
October 2022
17 × 22,5 cm
112 pages – embossed softcover with tip-in image
59 colour plates
Published by Diskobay Books
https://www.diskobay.org/books/voksevaerk/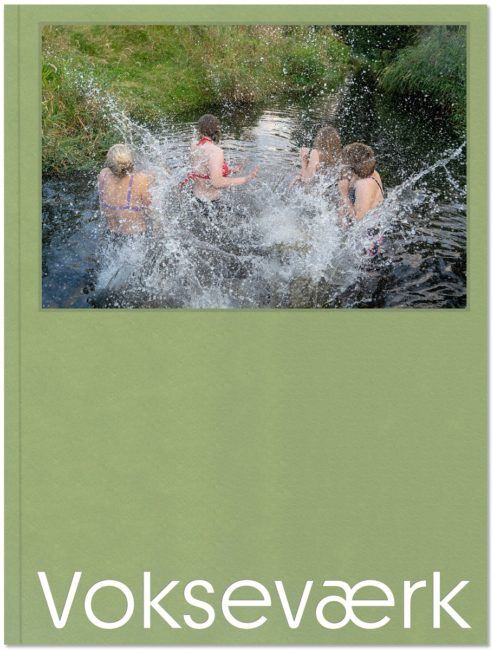 ---
Location: Online Type: Book Review
Events by Location
Post Categories
Tweets
Tags